We're less than a month away from the publication of the first book in the Maddox Brothers Series, BEAUTIFUL OBLIVION, and I'm crushing hard on Trenton….
It's time for different Maddox Brother to take center stage! Not that I will stop crushing on Travis, but I'm ready to share the love with another Maddox. These brothers are just yummy-licious!
Not familiar with any Maddox brothers because you haven't read Jamie McGuire's
Beautiful Disaster
series, then I strongly suggest you read Travis' story first before crushing on Trenton. You don't want to miss any moments with a Maddox brother. Trust me!!!
---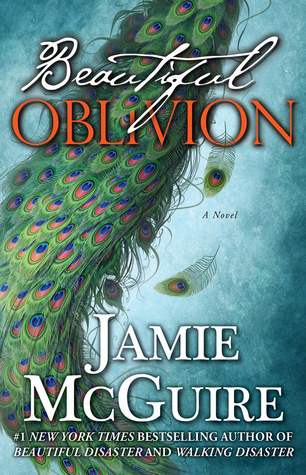 Beautiful Oblivion
Author: Jamie McGuire
Reading Level: New Adult
Genre: Romance
Released: July 1st 2014
Publisher: Atria Books
The Beautiful Disaster and Walking Disaster phenomenon continues in the first heart-pounding new adult romance in The Maddox Brothers series.

Fiercely independent Camille "Cami" Camlin gladly moved on from her childhood before it was over. She has held down a job since before she could drive, and moved into her own apartment after her freshman year of college. Now tending bar at The Red Door, Cami doesn't have time for much else besides work and classes, until a trip to see her boyfriend is cancelled, leaving her with a first weekend off in almost a year.

Trenton Maddox was the king of Eastern State University, dating co-eds before he even graduated high school. His friends wanted to be him, and women wanted to tame him, but after a tragic accident turned his world upside down, Trenton leaves campus to come to grips with the crushing guilt.

Eighteen months later, Trenton is living at home with his widower father, and works full-time at a local tattoo parlor to help with the bills. Just when he thinks his life is returning to normal, he notices Cami sitting alone at a table at The Red.

As the baby sister of four rowdy brothers, Cami believes she'll have no problem keeping her new friendship with Trenton Maddox strictly platonic. But when a Maddox boy falls in love, he loves forever—even if she is the only reason their already broken family could fall apart.

In the first installment of the Maddox Brothers books, readers can experience the rush of reading Beautiful Disaster for the first time, all over again.
---
Many of you have probably read a first chapter excerpt in HAPPENSTANCE, but if you want even more
Beautiful Oblivion
, this week is going to be super fun for you because Atria Books is sponsoring an excerpt chain and giveaway JUST so you can get an extra sneak peek at Trenton and Cami's story, and I have part of that excerpt right here.
ARE YOU READY
?
"Does T.J. know you went out last night?"
"Yes."
"Does he know about Trent?"
"He didn't ask."
"He never asks about your nights out. If Trent was no big deal, you'd think you'd mention it," Raegan said with a smirk.
"Shut up. Go to your parents' house and let your dad torture Kody."
Kody's eyebrows pulled together, and Raegan shook her head, patting his massive shoulder as they walked to her bed­room. "She's kidding."
When Raegan and Kody left a couple of hours later, I opened my books and laptop, and began to write my paper on the effects of growing up with a personal computer. "Who comes up with this shit?" I groaned.
When the paper was written and printed, I began to study for the psych test I had on Friday. It was the better part of a week away, but experience had taught me that if I waited until the last minute, something would inevitably come up. It wasn't as if I could study at work, and this test would be particularly difficult.
My cell phone pinged. It was Trenton again.
---
Over time my love for learning gravitated toward studying conspiracy theories and contradictions in our culture. My conclusions have ignited a passion to write compelling young adult fiction that incorporates legend, conjecture, fantasy, and conviction.
I love being a wife, mother, friend, writer, and teacher. I began teaching high school English in 2002 and started blogging and podcasting in 2008. I have a brilliant husband, two redheads, and never imagined my life would ever be this fun!
ONE lucky winner here, will win a print copy (
Open International
)
Follow along in the excerpt chain by checking out
Aestas Book Blog
later today or use this handy dandy schedule. You can also follow along by checking out
www.facebook.com/JamieMcGuireAuthor
.
Check out OUaT's Reviews and Features with McGuire:
Happenstance
|
A Beautiful Wedding
|
Red Hill
|
Walking Disaster
|
Beautiful Disaster
|
OUaT's Exclusive Interview
with Jamie McGuire, Abbi Glines and Colleen Hoover during Atria Indie Author Tour |
Friday Author Spotlight
with Jamie McGuire.