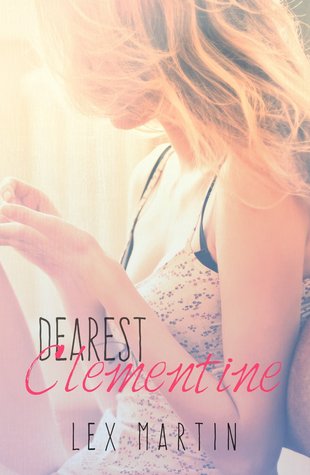 Dearest Clementine
Dearest #1
Author:
Lex Martin
Reading Level: New Adult
Genre: Contemporary Romance
Released: May 25, 2014
Review Source: Purchased
Twenty-year-old Clementine Avery doesn't mind being called bitchy and closed off. It's safe, and after being burned by her high school sweetheart and stalked by a professor her freshman year of college, safe sounds pretty damn good.

Her number one rule for survival? No dating. That is until she accidentally signs up for a romance writing class and needs material for her latest assignment. Sexy RA Gavin Murphy is more than happy to play the part of book boyfriend to help Clem find some inspiration, even if that means making out...in the name of research, of course.

As Gavin and Clem grow closer, they get entangled in the mystery surrounding a missing Boston University student, and Clem unwittingly becomes a possible target. Gavin tries to show Clem she can handle falling in love again, but she knows she has to be careful because her heart's at stake…and maybe even her life.
Clementine's love life hasn't quite been all butterflies and kisses. In high school, she went through a horrific break-up. To make matters worse, in college she started being stalked by a creep professor. So, to say she's closed off is an understatement. In steps Gavin. Oh God, Gavin! Just thinking of him makes me squirm in a good way. He totally breaks down Clementine's walls and wins her over. But, nothing is ever that perfect right?
Dearest Clementine is all I ask for in a steamy New Adult novel. Clementine, or Clem, is all I ask for in a tough, "I don't take any crap" female main character. Gavin is all I ask for in a swoon-worthy, HOT, male main character. And, all the supporting characters are more than I can ask for as well! I have no complaints over anything in this story line. It was a great plot with some amazing scenes!
Lex Martin definitely knows her stuff! This is one of those reads I wish I could un-read just to read it new and all over again! I have been really slacking in the NA department. Not really finding anything that stood out to me, or that I even like! But, Dearest Clementine, and Lex Martin, definitely won me over. Trust me, you NEED this book in your life! You NEED Gavin to swoon over!