---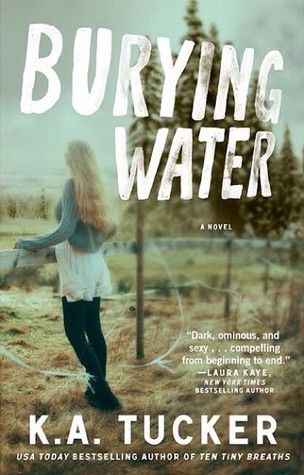 Burying Water
Burying Water # 1
Author:
K.A. Tucker
Reading Level: New Adult
Genre: Contemporary Romance
Released: October 7th 2014
Review Source: Atria | Netgalley
The top-selling, beloved indie author of Ten Tiny Breaths returns with a new romance about a young woman who loses her memory—and the man who knows that the only way to protect her is to stay away.

Left for dead in the fields of rural Oregon, a young woman defies all odds and survives—but she awakens with no idea who she is, or what happened to her. Refusing to answer to "Jane Doe" for another day, the woman renames herself "Water" for the tiny, hidden marking on her body—the only clue to her past. Taken in by old Ginny Fitzgerald, a crotchety but kind lady living on a nearby horse farm, Water slowly begins building a new life. But as she attempts to piece together the fleeting slivers of her memory, more questions emerge: Who is the next-door neighbor, quietly toiling under the hood of his Barracuda? Why won't Ginny let him step foot on her property? And why does Water feel she recognizes him?

Twenty-four-year-old Jesse Welles doesn't know how long it will be before Water gets her memory back. For her sake, Jesse hopes the answer is never. He knows that she'll stay so much safer—and happier—that way. And that's why, as hard as it is, he needs to keep his distance. Because getting too close could flood her with realities better left buried.

The trouble is, water always seems to find its way to the surface.
How can I put into words how much I love K.A. Tucker? I freaking adore her! ADORE HER. She is just absolutely amazing. As a fan of her Ten Tiny Breaths series, I was highly anticipating her new novel. And after I finished reading Burying Water, I was overwhelmed of how utterly breathtaking her words are. I really cannot wait for everyone to read Burying Water.
Left to dead, our mysterious protagonist begins a journey that soon will unravel the truth of her past. Burying Water begins the night our Jane Doe/Water was set to die. Luckily, we meet Jesse, our broken hero, whom is silently keeping secrets from Water. The thing is, Jesse knows the truth identity of Water but wants to keep her safe. The question is from whom?
Even though Water doesn't know the truth of her past, she slowly unravels the truth. And though she cannot remember, she feels strangely attracted to this perplexing and handsome man. As she falls for him, learning the truth will not be easy. Will the truth torn them away?
Burying Water is a stunning novel about love, sacrifice and family. I loved our two main characters but Ginny won my heart. She is a tough cookie but very warm from the inside. I found her character the most memorable and you will fall in love with her.
If you haven't read any of K.A. Tucker's novels, I highly recommend that you start with Burying Water. This will leave you thirty for more of her words. Fans, like myself, will be beyond satisfied with Burying Water. Go and pre-order NOW!