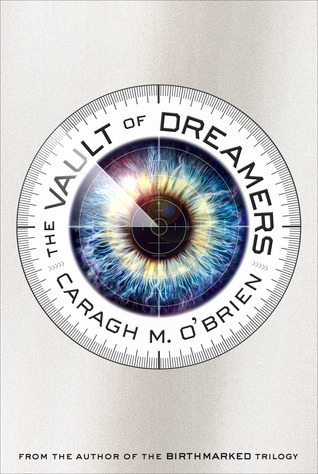 The Vault of Dreamers
Author:
Caragh M. O'Brien
Reading Level: Young Adult
Genre: Science Fiction | Dystopia
Released: September 16, 2014
Review Source: Roaring Brook Press
From the author of the Birthmarked trilogy comes a fast-paced, psychologically thrilling novel about what happens when your dreams are not your own.

The Forge School is the most prestigious arts school in the country. The secret to its success: every moment of the students' lives is televised as part of the insanely popular Forge Show, and the students' schedule includes twelve hours of induced sleep meant to enhance creativity. But when first year student Rosie Sinclair skips her sleeping pill, she discovers there is something off about Forge. In fact, she suspects that there are sinister things going on deep below the reaches of the cameras in the school. What's worse is, she starts to notice that the edges of her consciousness do not feel quite right. And soon, she unearths the ghastly secret that the Forge School is hiding—and what it truly means to dream there.
First, I would like to say that I LOVED O'Brien's trilogy Birthmarked. So when I saw that she had written another book, I was ecstatic! From the front cover, to the blurb on the back, to the first few pages...I was hooked.
The book starts out introducing the character Rosie. She's not like the other students at her school trying to win blip ratings from their adoring fans; she just wants to make good films. You instantly fall in love with her character because she's the underdog and the misfit. She's also a very strong female character, so she is also like other characters I've read before.
You're also introduced to her love interest, Linus. He's the kitchen boy, which I like, because he's not the typical character for someone at this fancy private school to like. But, Rosie isn't your typical character either. So, if you like a little romance with your Science-Fiction, it's here as well.
The book really started to get good towards the last half of the book and I couldn't put it down. My husband was being me to wash clothes and feed the my children, but I couldn't put it down. We ate a lot of pizza during this book. I was so worried about Rosie and even had troubles sleeping at night until I could finish the book. Which is ironic because it's called The Vault of Dreamers.
Overall, I really enjoyed this book. It's been awhile since I had a book that I liked this much. I hope they make this into a movie or at least a mini series on TV. I would definitely watch it.