---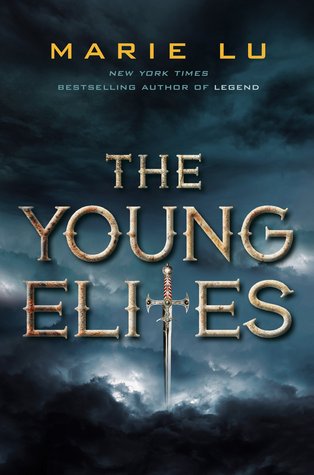 The Young Elites
The Young Elites # 1
Author:
Marie Lu
Reading Level: Young Adult
Genre: Fantasy
Released: October 7th 2014
Review Source: Putnam Books for Young Readers
I am tired of being used, hurt, and cast aside.

Adelina Amouteru is a survivor of the blood fever. A decade ago, the deadly illness swept through her nation. Most of the infected perished, while many of the children who survived were left with strange markings. Adelina's black hair turned silver, her lashes went pale, and now she has only a jagged scar where her left eye once was. Her cruel father believes she is a malfetto, an abomination, ruining their family's good name and standing in the way of their fortune. But some of the fever's survivors are rumored to possess more than just scars—they are believed to have mysterious and powerful gifts, and though their identities remain secret, they have come to be called the Young Elites.

Teren Santoro works for the king. As Leader of the Inquisition Axis, it is his job to seek out the Young Elites, to destroy them before they destroy the nation. He believes the Young Elites to be dangerous and vengeful, but it's Teren who may possess the darkest secret of all.

Enzo Valenciano is a member of the Dagger Society. This secret sect of Young Elites seeks out others like them before the Inquisition Axis can. But when the Daggers find Adelina, they discover someone with powers like they've never seen.

Adelina wants to believe Enzo is on her side, and that Teren is the true enemy. But the lives of these three will collide in unexpected ways, as each fights a very different and personal battle. But of one thing they are all certain: Adelina has abilities that shouldn't belong in this world. A vengeful blackness in her heart. And a desire to destroy all who dare to cross her.
I slowly felt in love with Marie Lu's Legend trilogy. Don't get me wrong, I loved her writing, but when I first read Legend I liked it but didn't love it. But I was hooked after reading Prodigy and let's not begin how much I loved Champion. Every new book I read of hers, I felt more in love with her. When my dear blogger friend Nancy from Ravenous Reader loaned me her copy of The Young Elites, I was overwhelmed. I freaking loved it! All Marie Lu's fans will be overjoyed when they read The Young Elites! It is such a phenomenal read! Packed with actions, this book will have everyone wanting more.
Scared of her father, Adelina never stood up to him. She let him used her. He was such a mean bastard that didn't deserve to have such amazing daughter. He didn't care for her, he was blinded by the fact that she was a malfetto. To his believe, Adelina was an abomination. See many years ago a deadly illness left some crippled and killed many, including Adelina's mother. From those that survived there are a few that were left with special abilities, these were named "malfetto". And they are not wanted. Many seek them to kill them. Though Adelina is mistreated, she never revealed any sort of ability – which is why she lived this long. Until one night, she had enough. That night she escaped only to be confronted by her father minutes after. Something bad happens and now she is running away from the "authorities", only to cross path with a group of malfettos. Now she must learn how to develop her powers and fight against those that wants to kill her.
God, I loved this story! I am a huge fan of the X-Men and this reminds me so much of the movies! Adelina is one tough cookie and I loved her powers. Though she couldn't choose a side, though she betrayed, she was willing to fight back for her rights. I have to be honest, I don't blame her. This chick has trusting issues. I would be too, if I were treated the way her father treated her. But though she is broken and unsecured, she is changing. I can't wait for the second book and read more of her! (Ha! And this is not even out yet). It will be a loooong torturous year! I can't wait to have my copy in hands! Marie Lu is definitely an auto-buy!