Welcome to our stop on the
ROWDY
blog tour stop. The Marked Men series is written by Jay Crownover.
---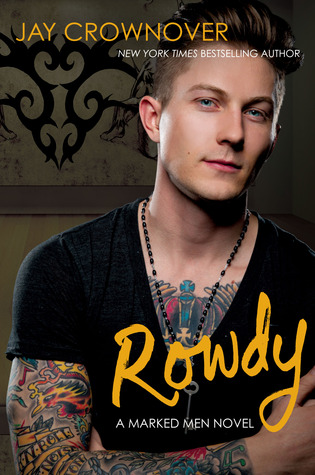 Rowdy
Marked Men Series #5
Author:
Jay Crownover
Reading Level: New Adult
Genre: Romance | Contemporary
Released: October 21, 2014
Review Source: Harper Collins | William Morrow
The New York Times and USA Today bestselling Marked Men series continues with this sizzling, sexy story of love, heartbreak, fate, and second chances. After the only girl he ever loved told him that he would never be enough, Rowdy St. James knocked the Texas dust off his boots and set out to live up to his nickname. A good ol' boy looking for good times and good friends, Rowdy refuses to take anything too seriously, especially when it comes to the opposite sex. Burned by love once, he isn't going to let himself trust a woman again. But that's before his new co-worker arrives, a ghost from the past who's suddenly making him question every lesson he ever learned. Salem Cruz grew up in house with too many rules and too little fun—a world of unhappiness she couldn't wait to forget. But one nice thing from childhood has stayed with her; the memory of the sweet, blue-eyed boy next door who'd been head over heels in love with her little sister. Now, fate and an old friend have brought her and Rowdy together, and Salem is determined to show him that once upon a time he picked the wrong sister. A mission that is working perfectly—until the one person that ties them together appears, threatening to tear them apart for good.
~~~The New Adult Genre is recommended for readers ages 18 and above due to the possibility of sexual content and/or other mature subject matters.
So I must confess, I'm too scared to get a tattoo. There is really no way that I could sit through a needle creating permanent art on my caramel canvas. However, given the chance to allow Rowdy to do it, well that may change! Rowdy, the main focus of Marked Men #5, has been through so much in life. All of our Marked Men have. As you can see I used "our." I use that term loosely. However, Jay Crownover built a New Adult empire centered around the lives of these men and the women they love. Their struggles. Their heartache. Their love. Their redemption. She's shared their world with her readers. This Marked Men novel is the best one yet. Honestly, they just keep getting better and better.
It's all about Rowdy. His determination. His growing empire. His great looks. His artistic ability. As well as his desire to stay locked down to himself. Locked away from family and especially love. His past hits him head on and his life begins to spiral through some changes and risks that he isn't quite ready for. Risks that may be too painful to take. Nonetheless, there is one great thing about the Marked Men family. They truly take care of their own. However, will Rowdy allow it or will he continue to go down a path of one night stands and late nights of work all because he doesn't realize he desires better.
Jay Crownover sprinkles in some romantic scenes throughout all of her novels. But for me it isn't what defines her writing. What the reader gets every single time is a well planned and executed storyline. What's unique about this series? It's the fact that although each novel is centered around one or two major characters, all of the majors in previous novels continue to have a distinct role in the storyline. One specific piece I really liked about this novel is that it appears that Ms. Crownover is stepping into the world of culturally diverse characters and main ones at that. It was crafted very well in this novel. That's something I always feel is missing from great series. As readers we like to make connections. And often this is a concept that is left out. I look forward to more. If your familiar with the series I'm not going to spoil it for you regarding who is next in line for their life story to be told. For me that's all apart of the anticipation during the reading process. There are hints here and there throughout. But it isn't until the end that you know for sure, which "Marked Men" will be next. Jay Crownover pours her heart and soul into each ink stained page of writing. Writing that is filled with realistic characters that are believable and true. Writing and story lines that get better and better with every single novel!
---
"I always thought it was the firsts that matter, but now I know that it's the lasts that stay with you."
Her mouth puckered into a little frown of confusion and I bent down to kiss that ruby above her lip. She shivered again and this time I knew it didn't have anything to do with the chill in the air.

"I believed for a long time that I was never going to get past the first girl that made me feel like I was in love. I used it as an excuse to keep other women at an arm's length because I was terrified of being hurt again. I was afraid, I still am, but I realize that that fact I want to be with you, that I care so much about you means so much more than the fear."

She sighed and moved one of her hands to rest in on my cheek. "I don't want you to be afraid of me, Rowdy."

"You were and have been the source of a lot of firsts for me, Salem. The first girl I kissed. The first girl I ever cried in front of. The first girl I ever gave a present to. The first I never forgot. You're the first girl that has ever kept me up at night and the first girl that that makes me hurt badly with the way I want you. Looking back I think when you drove away that day you took a piece of me with you that I didn't get back until I saw you at the shop. All of those firsts are important and made me see things more clearly without the filter of time and resentment in the way, but what really matters is the lasts."

I bent down so I could kiss her. I just pressed my lips lightly against her parted mouth and whispered to her, "You are the last person I want to kiss. The last woman I want in my bed. I want you to be the last girl that touches any and all parts of me, Salem, and that means so much.
---
About the Author
Jay Crownover is the New York Times and USA Today bestselling author of the Marked Men series. She also introduced the dark and sexy world of The Point in a new series this last summer starting with BETTER WHEN HE's BAD. Like her characters, she is a big fan of tattoos. She loves music and wishes she could be a rock star, but since she has no aptitude for singing or instrument playing, she'll settle for writing stories with interesting characters that make the reader feel something. She lives in Colorado with her three dogs.