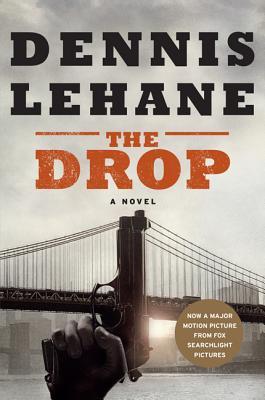 The Drop
Author:
Dennis Lehane
Reading Level: Adult
Genre: Mystery
Released: September 2nd 2014
Review Source: William Morrow Paperbacks
Dennis Lehane returns to the streets of Mystic River with this love story wrapped in a crime story wrapped in a journey of faith—the basis for the major motion picture The Drop, from Fox Searchlight Pictures directed by Michaël Roskam, screenplay by Dennis Lehane, and starring Tom Hardy, Noomi Rapace, and James Gandolfini.

Three days after Christmas, a lonely bartender looking for a reason to live rescues an abused puppy from a trash can and meets a damaged woman looking for something to believe in. As their relationship grows, they cross paths with the Chechen mafia; a man grown dangerous with age and thwarted hopes; two hapless stick-up artists; a very curious cop; and the original owner of the puppy, who wants his dog back. . . .
The Drop was an interesting read. We meet bartender Bob Saginoski. After a night of a gathering, he comes across an injured dog. As he is helping rescue this dog, he meets a Lidia. At first, she is rude to him, telling him to get out of her garbage but once she learns his intensions, she warms up. With fate on their side these two eventually become friends, both taking care of this dog.

One night the bar that Bob works at is robbed and to help his cousin, the original owner of the bar but lost it to a mobster, he entangles himself in trouble. Needless to say, the dog's original owner wants his dog back and we learn that this man is one not to mess with. This is a short, dark but surprising The Drop is about is about hope. Where there is crime, there is always one in hope of survival.