There have been quite a few cover reveals in the bookish world lately.
Here are a few that stand out to us.
---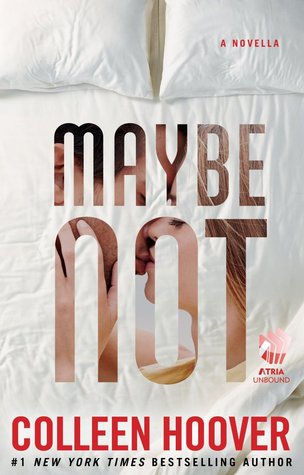 Maybe Not: A Novella
Author: Colleen Hoover
Release Date: November 24th 2014
Publisher: Atria Books
Colleen Hoover, the New York Times bestselling author of Maybe Someday, brilliantly brings to life the story of the wonderfully hilarious and charismatic Warren in a new novella, Maybe Not.

When Warren has the opportunity to live with a female roommate, he instantly agrees. It could be an exciting change.

Or maybe not.

Especially when that roommate is the cold and seemingly calculating Bridgette. Tensions run high and tempers flare as the two can hardly stand to be in the same room together. But Warren has a theory about Bridgette: anyone who can hate with that much passion should also have the capability to love with that much passion. And he wants to be the one to test this theory.

Will Bridgette find it in herself to warm her heart to Warren and finally learn to love?

Maybe.

Maybe not.
---
Fifty Shades of Grey Movie Tie-In Edition
Fifty Shades Trilogy
Author: E. L. James
Release Date: January 6th 2015
Publisher: Vintage
SOON TO BE A MAJOR MOTION PICTURE

When literature student Anastasia Steele goes to interview young entrepreneur Christian Grey, she encounters a man who is beautiful, brilliant, and intimidating. The unworldly, innocent Ana is startled to realize she wants this man and, despite his enigmatic reserve, finds she is desperate to get close to him. Unable to resist Ana's quiet beauty, wit, and independent spirit, Grey admits he wants her, too—but on his own terms.

Shocked yet thrilled by Grey's singular erotic tastes, Ana hesitates. For all the trappings of success—his multinational businesses, his vast wealth, his loving family—Grey is a man tormented by demons and consumed by the need to control. When the couple embarks on a daring, passionately physical affair, Ana discovers Christian Grey's secrets and explores her own dark desires.

This book is intended for mature audiences.
---
The Recovery
The Program series
Author: Suzanne Young
Release Date: February 24th 2015
Publisher: Simon & Schuster Digital Sales
Six months after the fall of The Program, ex-handler Michael Realm is struggling with his guilt. After all, he was instrumental in erasing the memories of several patients—including one he claimed to love. With a lifetime of regret stretched before him, Realm vows to set things right.

Along with his friend, James Murphy, Realm will track down those he's hurt in an attempt to give them back their lives—starting with Dallas Stone. He's not looking for forgiveness or redemption; he's not a hero. But Realm hopes that with each recovered past, he'll be able to reclaim a small bit of his own.