---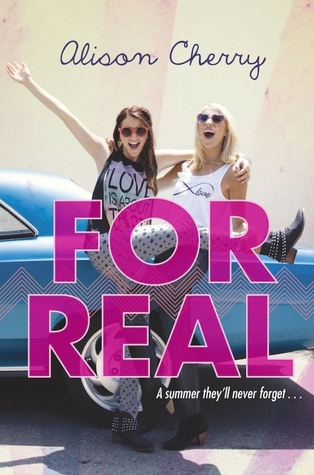 For Real
Author:
Alison Cherry
Reading Level: Young Adult
Genre: Contemporary, Romance
Released: December 9, 2014
Review Source: Delacorte Press | Netgalley
No parents. No limits. No clue what they're in for.

Shy, cautious Claire has always been in her confident older sister's shadow. While Miranda's life is jam-packed with exciting people and whirlwind adventures, Claire gets her thrills vicariously by watching people live large on reality TV.

When Miranda discovers her boyfriend, Samir, cheating on her just before her college graduation, it's Claire who comes up with the perfect plan. They'll outshine Miranda's fame-obsessed ex while having an amazing summer by competing on Around the World, a race around the globe for a million bucks. Revenge + sisterly bonding = awesome.

But the show has a twist, and Claire is stunned to find herself in the middle of a reality-show romance that may or may not be just for the cameras. This summer could end up being the highlight of her life... or an epic fail forever captured on film. In a world where drama is currency and manipulation is standard, how can you tell what's for real?
There are a million reasons why I loved this book. I will only give you my top three (because I only have a limited space).
1. It was about two sisters. (I love my sister) 2. It was about a reality tv show. (I secretly want to be on one) 3. It had a travel element in it. (I so badly want to go to Paris!)
The characters are spot on. Claire and Miranda are the perfect opposites of each other. They compliment each other while still being their own self. I think I was more like Miranda and my older sister was Claire. I was very confident growing up and my sister was a late bloomer. To see how Claire transforms and grows throughout the story brought tears to my eyes. I was rooting for her throughout the whole book and was amazed on how well she did in the challenges. The other minor characters in the book added just the right mix into the story as well.
Who doesn't want to be on a reality show, right? With the tv loaded with them 24 hours a day, it's fun to imagine yourself there. Cherry did a fabulous job of showing you a behind the scenes look of reality tv. Without giving too much away, there is a romantic element in the book and the character Will made me so mad!! You know things aren't going to be perfect, but you really, really want them to!
Cherry did a fabulous job describing the many places that Claire and Miranda go on their journey. It was fun to see all of the different cultures and traditions. Do they really dress their grooms like women? Or rub poop and tar on their brides? I really enjoyed going on the adventure with them and experience fun challenges with them.
I REALLY loved this book and I know that I will be buying other books from this author. I feel comfortable having this book in my middle school classroom, but also the older crowd would like it too. If you can make me laugh and then cry just a few sentences later...you've got me hooked.
---
Alison Cherry, author of Red, lives in Brooklyn, NY. She is a professional photographer and spent many years working as a lighting designer for theater, dance, and opera productions. She once faked an important appointment so she could leave work in time to watch the finale of The Amazing Race. Visit her at alisoncherrybooks.com or on Twitter at @alison_cherry.