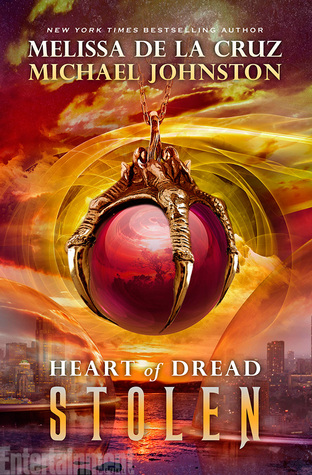 Stolen
Heart of Dread #2
Author:
Melissa de la Cruz
,
Michael Johnston
Reading Level: Young Adult
Genre: Fantasy
Released: November 18th 2014
Review Source: Penguin Young Readers Group
Who is Eliza Wesson?

Months after Nat and Wes said good-bye on the shores of the Blue, Nat is learning how to control and use her new power. She and her drakon are the last of their kind—and she's risked her life for their reunion. When she receives a mysterious distress call, she races to help, soliciting the guidance of her new friend, the beautiful and aloof Faix Lazaved of the Blue.

Still heartbroken over losing Nat, Wes is racing cars on a New Vegas racetrack while his team is scattered and lost. When he finds out that his sister, Eliza, is being held in the golden domes of El Dorado, he does what he's best at—running to her side—and gambles on luck to see him through one more time.

Magic, romance, and danger collide as Nat and Wes become entangled in a dark new adventure that leads right to the heart of the mystery of their frozen, broken world. They soon discover that the answer to both their quests lies in the same question: Who is Eliza Wesson—what is she capable of, and why was she stolen from her family so long ago?
Can I get legally married with a book cover? Highly doubt it, but that is how much I love this cover. The change in the cover of this book is amazing! I'm not into the whole changing the covers for sequels, but I love how shiny the books are now. I'm all about cute covers that will blow my socks off. I love the facts that I got so hooked to Stolen just like I did with Frozen.
This sequel revolves around the mystery regarding Wes sister, Elissa, who was kidnapped when she was younger. Nat is now out there with her drakon discovering all the new powers she possess and what she can do with them. After the sad goodbye between Wes and Nat, Wes is now without a team and participating in dangerous race cars. After he hears information about her sister, he decides to follow the information given to him.
*SLOW CLAP* Thank you Melissa De La Cruz and Michael Johnston for still giving me a badass Nat. When I tell you this book got me hooked is because of Nat is this badass girl with badass powers. A girl that can kicks butt is the best quality that a character can have. This is a strong girl that gave up something so she could be free and help people in the Blue. Wes is this adorable/badass that I loved since Frozen. The situation that he is now in this second book lets you see this totally different side of him that is outstanding. His character has gone through hard stuff and it's good to see how he is doing now.
The writing in this book is just outstanding. I found myself liking the same things that I did when I read Frozen. I can picture this world, I can see Nat flying around on her drakon and that is a wonderful thing that Melissa De La Cruz and Michael Johnston can do at the moment of writing. They are not only telling a story, they are showing with their words of how big and powerful this world is.
I totally recommend The Heart of Dread series. This is a series that will take you into the world that you are reading and will totally make you proud reading a badass girl-character.