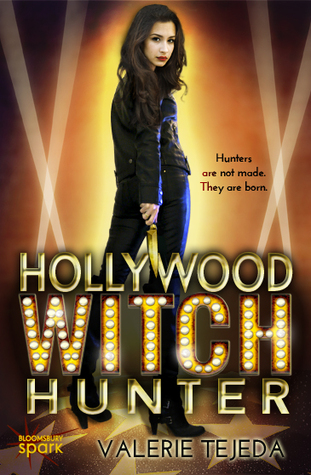 Hollywood Witch Hunter
Author:
Valerie Tejeda
Reading Level: Young Adult
Genre: Paranormal
Release Date: July 20th 2015
Publisher: Bloomsbury Spark
From the moment she first learned the truth about witches…she knew she was born to fight them.

Now, at sixteen, Iris is the lone girl on the Witch Hunters Special Ops Team.

But when Iris meets a boy named Arlo, he might just be the key to preventing an evil uprising in Southern California.

Together they're ready to protect the human race at all costs. Because that's what witch hunters do.

Welcome to Hollywood
Witch Hunting Book of Stories

Once upon a time, in a land not too far away, a beautiful witch named Belinda arrived in Hollywood in search of fame and fortune. Although Belinda was considered royalty among her kind, this witch longed for greater renown. She wanted to be an actress on the silver screen. But on one gloomy night at a glamorous after-party full of stars and starlets, Belinda lost her dream role to a younger woman. Humiliated and hurt, Belinda's once-tender heart turned to icy stone.

Consumed by bitterness and rage, she cast a curse upon her species, requiring each and every witch to steal the youth and beauty of mortal women through ritual sacrifice. She remained in Tinseltown to become the ruler of the Hollywood Coven, recruiting ever more witches from the far corners of the world to join her sinister plan. But these witches didn't fly on broomsticks or wear pointed hats. No, these witches used their powerful spells to control minds, time, and even the weather. And although the mortals continued their day-to-day lives, Belinda's incessant demand for sacrifice had placed the entire town in danger.

But one day, everything changed. An army of men who called themselves "hunters" came to The City of Angels determined to protect mankind from the witches' wrath. And with that, the rivalry between the witches and the hunters began — a secret war that would cost many innocents their lives and continue for decades.

Through the years, Belinda's struggle for youth, power, and beauty has been repeatedly foiled by the ever-persistent Witch Hunters. But the evil witch remains as clever as she is beautiful.

While some things change, one truth will endure: Never trust a witch…especially in Hollywood.