---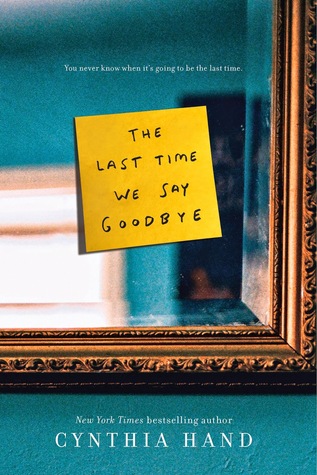 The Last Time We Say Goodbye
Author:
Cynthia Hand
Reading Level: Young Adult
Genre: Contemporary
Release Date: February 10th 2015
Review Source: Harper Teen
There's death all around us.
We just don't pay attention.
Until we do.

The last time Lex was happy, it was before. When she had a family that was whole. A boyfriend she loved. Friends who didn't look at her like she might break down at any moment.

Now she's just the girl whose brother killed himself. And it feels like that's all she'll ever be.

As Lex starts to put her life back together, she tries to block out what happened the night Tyler died. But there's a secret she hasn't told anyone-a text Tyler sent, that could have changed everything.

Lex's brother is gone. But Lex is about to discover that a ghost doesn't have to be real to keep you from moving on.

From New York Times bestselling author Cynthia Hand, The Last Time We Say Goodbye is a gorgeous and heart-wrenching story of love, loss, and letting go.
Let me start by saying, if you have a younger brother, like myself, The Last Time We Say Goodbye will shatter your heart.
From the moment I opened this book, I knew I was in for a ride. The book captured my attention right from the beginning. I wanted to pause and really think about it. Whether I was up for a roller coaster ride of emotions or not. Lately, that is all I've been reading. Seems like 2015 is the year of suicide or sickness reads. Nonetheless, Cynthia Hand made The Last Time We Say Goodbye stand out among the others.
Lex has been trying to keep her emotions in tact. Since her brother, Tyler, committed suicide, she has shied away from the world. She ignores her friends, she broke up with her boyfriend, pretty much she has given up on life. And things at home isn't easier. She knows her mother cries herself to sleep. She's living in a dark bubble. When her therapist recommends Lex to start sharing her emotions by writing it down in a journal, things began to look brighter. Once she accepts the fact that everyday is a new day to begin, it becomes much easier for her to say goodbye one last time.
The Last Time We Say Goodbye is an emotionally heartbreaking story about grief, hope and second chances at life. Not only will the story have you in tears, but the author's note will have in a puddle of emotions. THE FEELS. It will make you realize the importance of family, friend and love.
A must read novel.