2015 "It" Book of the Spring!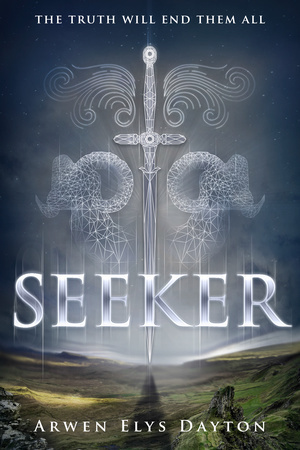 SEEKER
THEIR LEGACY IS A CALLING. AN HONOR. A LIE.
DELACORTE PRESS INTRODUCES READERS TO
THE FIRST NOVEL IN A TRILOGY FROM ARWEN ELYS DAYTON
Book has been optioned for film by Columbia Pictures and carries a first printing of 150,000 copies
Secrets will be revealed in debut YA author Arwen Elys Dayton's SEEKER (on sale February 10, 2015 / $18.99), the first novel in a trilogy published by Delacorte Press that tells the story of a teenage girl embarking on what she thinks is a noble destiny, only to discover that it is anything but honorable. Film rights to the book have been optioned by Columbia Pictures; international sales have been made in 13 languages so far, including French, Dutch, and Turkish; and major marketing and publicity campaigns accompany the series launch, including advertising, a 6-city author tour, a dedicated website at SeekerSeries.com, and an extensive social media campaign using #SeekerSeries.

The night Quin Kincaid takes her oath, she will become what she has trained to be her entire life. She will become a Seeker. This is her legacy, and it is an honor. As a Seeker, Quin will fight beside Shinobu and John, her two closest companions, to protect the weak and the wronged. But the night Quin takes her oath, everything changes. Being a Seeker is not what she thought. Her family is not what she thought. And now it is too late to walk away.

Dayton's personal travels to Scotland, London, and Hong Kong inspired the unique and captivating world she has created in SEEKER. Part fantasy, part science fiction, part coming-of-age story, SEEKER will be embraced by readers of all ages who desire a great story with unforgettable characters, vibrant settings, a little bit of romance and heart-pounding action. Look for the second novel in the trilogy, Traveler, in spring 2016.
"[A] powerful beginning to a complex family saga." —Publishers Weekly
"Fans of Veronica Roth's Divergent, Marie Lu's Legend, and Suzanne Collins's The Hunger Games series: your next obsession has arrived." —School Library Journal
---
ARWEN ELYS DAYTON began her career as a teenage staff writer at a foundation that produced Peabody Award–winning educational shows for PBS. She now spends months doing research for her stories, which has taken her around the world to places like the Great Pyramid at Giza, the Hong Kong harbor, and the castles of Scotland. Arwen lives with her husband and their three children in the rainy Pacific Northwest. You can visit her at arwendayton.com and follow her on Twitter at @arwenelysdayton.
SEEKER
by Arwen Elys Dayton
A Delacorte Press hardcover / on sale February 10, 2015
978-0-385-74407-2 / 448 pages / $18.99 / $21.99 Can. / Ages 14 & up
eBook: 978-0-385-37857-4 / $10.99
SEEKER is also available as an audiobook from Listening Library.