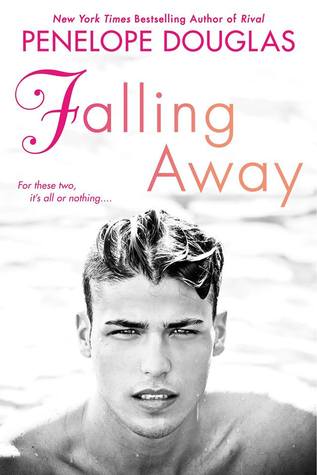 Falling Away
Fall Away #3
Author:
Penelope Douglas
Reading Level: New Adult
Genre: Romance
Released: January 6th 2015
Publisher: Penguin Group (USA) LLC
Jaxon is the guy she's supposed to avoid.

K.C. is the girl he won't let get away....

K. C. Carter has always followed the rules—until this year, when a mistake leaves her the talk of her college campus and her carefully arranged life comes crashing to a halt. Now she's stuck in her small hometown for the summer to complete her court-ordered community service, and to make matters worse, trouble is living right next door.

Jaxon Trent is the worst kind of temptation and exactly what K.C. was supposed to stay away from in high school. But he never forgot her. She was the one girl who wouldn't give him the time of day and the only one to ever say no. Fate has brought K.C. back into his life—except what he thought was a great twist of luck turns out to be too close for comfort. As the bond between them grows, he discovers that convincing K.C. to get out from her mother's shadow is hard, but revealing the darkest parts of his soul is nearly impossible.…

Excerpt - Chapter 5


"So, how did this happen?" I asked, holding the gauze on his skin, under the cuts, to catch the saline.
His abs flexed, probably from the cold fluid, since saline didn't sting, as I poured it over the cuts, cleaning them.
He sucked in air through his teeth. "Some of the science kids have greenhouses on the roof," he grunted, and I almost laughed out loud. "Masters asked me to go up and make sure the roofs were closed, but I slipped coming back down the stairs. Scraped myself on some bolts."
Ouch.
I used the rest of the gauze to wipe up the solution, and then ripped open a package with a wet wipe and made sure the blood was cleared up.
"You should be using gloves," he pointed out. "You know? Blood and all."
"I thought any girl was safe with you," I shot back, tearing open bandages. "Isn't that what you told me?"
Jax was silent for a minute, narrowing his eyes farther and watching me as I placed three rectangular bandages on his stomach.
"I said any girlfriend of mine," he finally clarified. "But you shouldn't be so careless. Use gloves next time."
I ignored him, feeling weird on the occasions he acted like this. Jax had a habit of scolding me, sometimes acting as though he was protecting me, and then following it all up with being an asshole. I finally figured out condescension was his way of gaining superiority. Making others feel stupid.
I sat back, looking him in the eye and changing the subject. "Is anything else hurt?"
He hesitated only a moment. And then folded his arm back, lifting his right elbow to reveal the scratches I'd noticed earlier.
Repeating the same procedure, I stood up and leaned over him, catching the saline wash as it cascaded over his wound and into the gauze.
He hissed, and I blinked.
"Blow on it," he ordered.
"It doesn't sting," I scoffed, knowing damn well that saline didn't hurt.
"K.C., Jesus," he barked, wincing.
I rolled my eyes but gave in. Holding the underside of his arm—his hard triceps—I leaned down and released a slow, cool breeze over the scratches. Jax's scent wafted over me again, and I desperately wanted to close my mouth so I could breathe him in through my nose.
But I didn't. I could tell his eyes were on me.
"Why are you watching me?" I asked, wiping up the rest of the solution and blood.
I didn't look at him, but I heard him swallow.
"This is just the first time you've ever made me feel good, is all," he replied in probably the most candid way I'd ever heard him speak.
I pinched my eyebrows together.
The first time I'd ever made him feel good. I didn't know what to say to that. Hell, I had nothing to say to that.
Keeping quiet, I finished applying his bandages as fast as I could and didn't meet his eyes again.
He'd tried to be nice to me in high school. He'd tried to be a friend. Maybe friends with benefits but still a friend. Now here I was, forcing my attention on him, and he probably had no patience for me anymore.
"Can I ask you a question?" I ventured.
"What?"
"That night you drove Liam home . . ." I swallowed, smoothing my fingers over the bandage I'd fixed to his arm. "You said you had tattoos. Too many." I repeated his words, my eyes fixated on his forearm. "What did you mean?" I pressed, because clearly Jax didn't sport any tattoos. His statement hadn't made any sense.
Even though I hadn't looked at him, I noticed his head turn away as he inhaled a slow, deep breath. Kind of as though he was getting ready to dive deep underwater and knew he wouldn't be up for air for a while.
"Sorry," I said quietly, straightening up and crumpling the bandage wrappers in my fist. "I just . . . I don't know . . ." I trailed off. "I just want to understand."
I finally met his eyes, and he studied me silently. I didn't know if he was trying to figure out what to tell me or if he wanted to tell me anything at all. Funny thing was, I'd thought about what Jax said that night a lot over the years, and while I was curious, it wasn't until I'd overheard his conversation with Jared today that I knew it had something to do with his childhood.
And I realized that I didn't know Jaxon Trent at all.
He rubbed his forearm and narrowed his eyes briefly before relaxing. "If you could get a tattoo, what would it be?"
I blinked, shocked by his question. "Um." I laughed softly, thinking. "I thought about a set of angel
wings, I guess. With one of the wings broken," I admitted.
"It has something to do with your past?"
I nodded. "Yes."
"And it's something you want to remember?" he pressed.
"Yes."
"That's why I don't have any tattoos," he concluded. "People get tattoos for all kinds of reasons, but they're always badges of what has made them who they are. I don't care to remember what and who made me this way. The people that gave me life. The people that brought me up . . ." He shook his head, defiant. "The places I've seen or anything I've done. It's all in my head, anyway. I don't want it on my body, too. I don't care about anything that much."
---
Penelope Douglas was born in Dubuque, Iowa and has a Masters of Science in Education from Loyola University in New Orleans. She lives with her family in Las Vegas.