---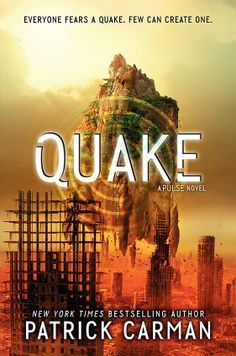 Tremor
Pulse #3
Author:
Patrick Carman
Reading Level: Young Adult
Genre: Science Fiction | Dystopia
Released: February 25th 2014
Review Source: Katherine Tegen Books
In the year 2051, Faith can move mountains…

Faith Daniels and Dylan Gilmore are in love, and they have a special ability called a pulse: they can move things with their minds. They're caught in the middle of a deadly war with two other pulses: Clara and Wade Quinn, who have joined forces with Hotspur Chance, the most wanted man in the world.

At the start of Quake, Faith and Dylan are holed up in a spectacular abandoned mountain lodge (once used in the film The Shining 71 years before), and their Intel friend Hawk leaves them in the middle of the night, in spite of a newly blossoming love with a girl named Jade. Hawk's plan is to penetrate the Western State and make contact with a sleeper cell working on the inside that will give them valuable information about Hotspur's violent plan.

But while Hawk is searching for answers on the inside, Faith and Dylan are still fighting on the outside. In a series of hair-raising battles, the second pulses duel it out, only to raise the body count on both sides. During the battles, Faith and Dylan discover an even great strength: the power of their combined love. Together, Faith and Dylan might just be able to save the world with a quake that is big enough to change the course of history.
Quake is the final installation of the Pulse series. So if you're looking for a series to read, then you should read the Pulse series! With action-packed moments and good twists of story, this is a series you do not want to miss. Seriously, Patrick surely knows how to keep his readers entertained.
From the moment I picked up Pulse, I was in for a surprise. I was not expecting to enjoy this book, the first book, as much as I did. The book contains a good taste of romance that is well timed and it leaves you wanting more. Not only this but there is a mystery and well, if you like mystery like myself, then this series will keep you turning to pages.
Quake picks right where Tremor ends. You must read the books in order. In Pulse, we come to learn Gretchen is the leader of the drifters and mother of Dylan. In Tremor, we learn her past and discover Dylan's father identity. To top this, we learn about second-pulses. In Quake, readers will learn more of the four second-pulses, what they are capable of doing. More like what else they are capable. Just when we think we know where the story is heading, Patrick throws us new information and leaves us unbalance. Yet, wraps everything up nicely.
After finishing Quake… Yeah, I'm still in wonder at the way things ended. Patrick surely knows how to create an action-packed plot. Seriously, he's brilliant. Even though its bittersweet to have this series end, I am happy how things ended. I am looking forward to read more of his work.
Lovers of sci-fi should give Pulse series a try!
Read more of
Pulse series