---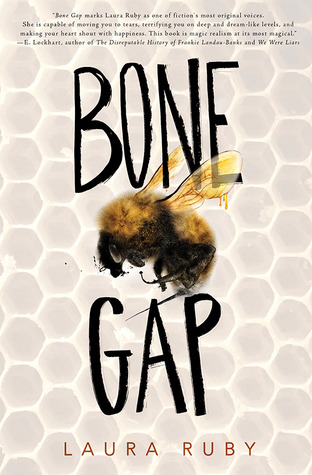 Reading Level: Young Adult
Genre: Contemporary
Expected Release: March 3, 2015
Review Source: Balzer + Bray
Everyone knows Bone Gap is full of gaps—gaps to trip you up, gaps to slide through so you can disappear forever. So when young, beautiful Roza went missing, the people of Bone Gap weren't surprised. After all, it wasn't the first time that someone had slipped away and left Finn and Sean O'Sullivan on their own. Just a few years before, their mother had high-tailed it to Oregon for a brand new guy, a brand new life. That's just how things go, the people said. Who are you going to blame?

Finn knows that's not what happened with Roza. He knows she was kidnapped, ripped from the cornfields by a dangerous man whose face he cannot remember. But the searches turned up nothing, and no one believes him anymore. Not even Sean, who has more reason to find Roza than anyone, and every reason to blame Finn for letting her go.

As we follow the stories of Finn, Roza, and the people of Bone Gap—their melancholy pasts, their terrifying presents, their uncertain futures—acclaimed author Laura Ruby weaves a heartbreaking tale of love and loss, magic and mystery, regret and forgiveness—a story about how the face the world sees is never the sum of who we are.
Before I go on and on about how much I LOVED this book, I have one thing negative to say...I'm not a fan of the cover. If I saw this cover while shopping the shelves of my local Barnes and Noble...I would've passed and kept on walking. So I thank God that I didn't get this from the bookstore because it was a FABULOUS book!!
The first thing I noticed was how awesome the writing was. "...two months after his life had burst like a thunderhead." and "...the plants twitching their green fingers." The book was full of satiating similes, magnificent metaphors, and perfect personification. Usually books that are jam packed with figurative language turns me off because it feels forced or placed in the wrong spots. Not with this book. The writing just flowed so nicely and the descriptions were spot on. My eyes were in delight as I read each page.
Not only was the writing spot on, but the characters, plot, and setting were too. Finn reminded me so much of the characters Lennie from Of Mice and Men and Todd from The Knife of Never Letting Go. There's just something different about him and people don't see him as anything else but the town weirdo, someone that they don't see as one of them. Throughout the whole book I felt like I was Finn and people were mistreating me, not him. I could feel his emotions and we shared the same thoughts. It takes a lot of work for a character to take over me like that and it takes a really great author to get me there. I also liked reading from Roza's point of view. She's the girl that had been kidnapped in the story, even though nobody believed Finn. I thought her point of view helped the story along and gave an insight into the main plot of the story.
If you can't tell how much I LOVED this book...then you're crazy. Just kidding! Overall, the characters, the plot, the setting, and the writing were engaging from page one. The town Bone Gap reminds me of some creepy Stephen King kind of town where if I stopped to ask for directions, I might never leave. Like, I would be tied up in the back of some grocery store closet or something. I will definitely share this book with my eighth graders and look forward to reading more from Laura Ruby.