---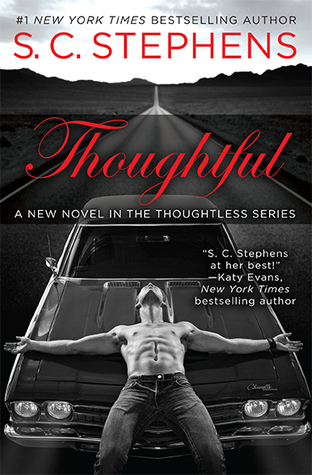 Thoughtful
Thoughtless #1.5
Author:
S.C Stephens
Reading Level: New Adult
Genre: Contemporary Romance
Release Date: February 24th 2015
Review Source: Little, Brown Book Group UK | Netgalley
A new novel in the Thoughtless series from #1 New York Times bestselling author S. C. Stephens!

Every story has two sides, and in this new book, the epic love story between Kiera and Kellan is shown through his eyes.

All Kellan Kyle needs is his guitar, and some clean sheets of paper. Growing up in a house that was far from a home, he learned a hard lesson:You're worthless. Now his life is comfortably filled with passionate music, loyal band mates, and fast women...until he meets her.

Kiera makes him ache for more. Makes him feel for the first time that he's worth more. But there's one problem - she's his best friend's girl.

Just when Kellan thought his emotional defenses were rock solid, Kiera's indecisive heart wreaks havoc on his soul, changing him forever. Losing Kiera is not an option.
To start this review truthfully, I was really nervous to read
Thoughtful
. Just because of personal experience. There have been so many great successful series' which have decided to re-write book one to the male's point of view so the readers get a different view on the series they love...and I have yet to find one I've enjoyed. I picked up
Thoughtful
because I loved the Thoughtless trilogy, and at first I wasn't going to give this book a chance, but I had to for old times' sake.
Turns out, I ended up liking
Thoughtful
more than I thought I would. Reading
Thoughtful
didn't change any of my thoughts of the characters or my feelings towards this series (I'm glad, because I really love this series) but I appreciate that I got to understand things more. I've never thought that Kiera deserved Kellan, but I got to understand
why
he thought she was the one for him. I've never been against Kiera, I just never thought she was the one for Kellan.
Thoughtful
was the perfect novel to tie up any lose ends you may have had with the Thoughtless trilogy. I had a few frustrations with the trilogy, but I got explanations and an understanding of them here. There's nothing more satisfying when you're reading a novel and a personal issue you have gets ironed out...but at the same time I felt like this book was unnecessary.
Thoughtful
has the same plot line as
Thoughtless
, the same intensity whilst reading wasn't there. After all, it was something I've read before just with a different point of view. However, if Kellan Kyle is a winner for you and you want to see things through his eyes, then you'll love this book.
While I had those thoughts, Kellan was the first rocker I loved and he still owns the top spot in my heart and this series will always be one I love and one to remember. I loved reading things from Kellan's point of view. The nature of the novel, the cheating, angst, heartache, and tears--it was more heartbreaking reading it through his point of view. Reading his reactions towards Kiera just seemed more special reading it through his eyes.
As you can tell, my review is contradicting itself. There were points where I didn't enjoy the novel, but there were times when I did. I felt so conflicted when it came to writing this. But, my overall opinion: while I felt like this novel was unnecessary and it wasn't as enjoyable because it's a duplicate novel told in a different point of view, seeing things through Kellan's eyes was much more interesting; more special.
Thoughtful
made me understand everything better and made more of a fan of Kellan and Kiera as a couple.