---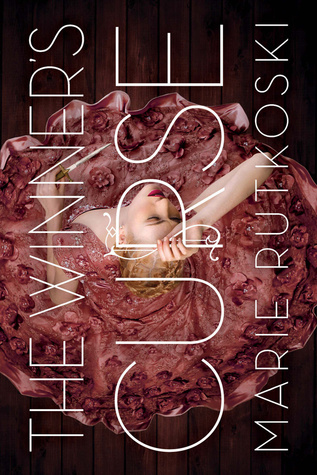 The Winner's Curse
The Winner's Trilogy #1
Author:
Marie Rutkoski
Reading Level: Young Adult
Genre: Fantasy
Released: March 4th 2014
Publisher: Farrar Straus Giroux
Winning what you want may cost you everything you love.

As a general's daughter in a vast empire that revels in war and enslaves those it conquers, seventeen-year-old Kestrel has two choices: she can join the military or get married. But Kestrel has other intentions.

One day, she is startled to find a kindred spirit in a young slave up for auction. Arin's eyes seem to defy everything and everyone. Following her instinct, Kestrel buys him—with unexpected consequences. It's not long before she has to hide her growing love for Arin.

But he, too, has a secret, and Kestrel quickly learns that the price she paid for a fellow human is much higher than she ever could have imagined.

Set in a richly imagined new world, The Winner's Curse by Marie Rutkoski is a story of deadly games where everything is at stake, and the gamble is whether you will keep your head or lose your heart.
CHAPTER 11-20
You know the worst part of a read along? Having to stop reading and talk about it. I'm sitting there like "wait... no I'm not ready to put it down yet, one more chapter!" With that being said, I am totally loving this book right now! My mind is running wild with anticipation with what's going to happen.
This week we're reading chapters 11-20, and that's taking us almost halfway through the book. We're getting deeper into the story line and events are getting set up for something big. So far some suspicious acts have ensued, and Kestrel is not too keen on believing that they're getting the full truth. She sees something beyond the hard evidence. Which drives her to strike a deal with her father, she is to learn more of the behind the scenes of war and battles, make her own choice about becoming a warrior or get married, the decision to be made by spring.
Then we have Arin, who I enjoy seeing more of, but I definitely do not trust him still, with obvious reasons (meetings with Cheat). I do enjoy his newly formed friendship with Kestrel, their Bite and Sting games, and betting truths. I am intrigued to get more information on what's going on inside his head, where he's going to be taking this story.
And now there's a dual about to happen and my butt needs to get back to this book. Who knew taking breaks to reflect was going to be so hard?
a Rafflecopter giveaway