Welcome to our stop on the Seeker tour for Arwen Elys Dayton. This tour is hosted by
Rockstar Book Tours
.
---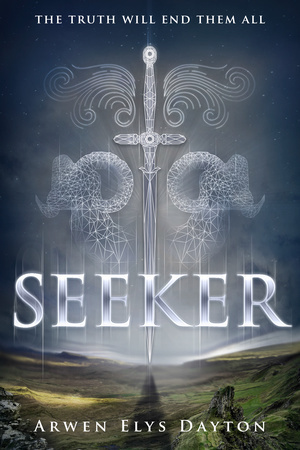 Seeker
Seeker #1
Author: Arwen Elys Dayton
Reading Level: Young Adult
Genre: Fantasy
Released: February 10 2015
Review Source: Delacorte Books for Young Readers
For readers of A Game of Thrones and The Hunger Games comes an epic new series.

The night Quin Kincaid takes her Oath, she will become what she has trained to be her entire life. She will become a Seeker. This is her legacy, and it is an honor. As a Seeker, Quin will fight beside her two closest companions, Shinobu and John, to protect the weak and the wronged. Together they will stand for light in a shadowy world. And she'll be with the boy she loves--who's also her best friend.

But the night Quin takes her Oath, everything changes. Being a Seeker is not what she thought. Her family is not what she thought. Even the boy she loves is not who she thought.

And now it's too late to walk away.
A story that follows four main characters through a tumultuous time trying to figure out what it is exactly that they're suppose to be doing. Quin who has been in love with the idea of being a Seeker since she can remember, Shinobu - the third cousin pining for his relative, John wanting to become a Seeker to avenge his mother, and Maud a girl who gets thrown in with the Dreads by mistake, or by fate. All of their stories always end up intertwining with one another, and slowly they start to wonder who they should really trust.
Wow. Wow, wow, wow. I went into this book excited and usually that leads you to hate the book. That was the opposite with this. I am completely in love with this story, there were a few times when I wasn't completely following the story but I didn't really miss too much. It is written akin to Game of Thrones-although I have not read GoT I have family who have, they tell me all about it and Seeker honestly made me wonder if I should give GoT a try. At first I was worried that the switching perspectives was going to ruin the whole thing for me, but honestly it just makes you more intrigued with everything that is going on within this world.
I am always a sucker for a romance, and this book wasn't heavy with the romance but it was just enough to keep me hooked. I am a fan of V.C Andrews-mainly Flowers In The Attic. So when Shinobu was first showing his feelings for Quin I was a little grossed out...then I realized I had read worse, Chris and Cathy from Flowers for example, and I had cheered for them to get together and was so angry when they hadn't. So I decided to find a way to be okay with Shinobu and Quin. Although I wanted her with John. I'm still not completely sure what happened to Quin's feelings with John, I wouldn't of made as big of a deal as she did about the athame and who had it. But I'm not sure that we've gotten the full story of what happened to Quin on her first few assignments and what made her completely change. I was also unsure of what time era we were suppose to imagine while reading, I tended to imagine Lord of the Rings type time, but then they would pull out a phone. So I'm assuming futuristic times, but I'm still unsure.
Honestly I think everyone should read this book! It may not be for everyone, but if you like Game of Thrones or fantasy tales such as that give it a shot!
---
Arwen Elys Dayton is hard at work on the SEEKER series, a grand YA story for Random House.
Arwen began her career as a teenage staff writer at a foundation that produced Peabody Award-winning educational shows for PBS. Soon afterward, she began writing screenplays and novels, including Sovereign's Hold and Resurrection, the #1 Amazon bestseller in Sci-Fi in both the US and the UK.
She spends months doing research for her stories. Her explorations have taken her around the world to places like the Great Pyramid (which she explored by flashlight when researching Resurrection), Hong Kong and its many islands, and lots of ruined castles in Scotland. She enjoys creating complete worlds inhabited by characters who charm, frustrate or inspire.
Arwen lives with her husband and their three children on the West Coast of the United States. You can visit her at arwendayton.com and follow @arwenelysdayton on Twitter and Instagram, or reach her by email at arwenelysdayton@gmail.com.
She is represented by Jodi Reamer at Writers House.
5 winners will receive finished copies of SEEKER, US only.