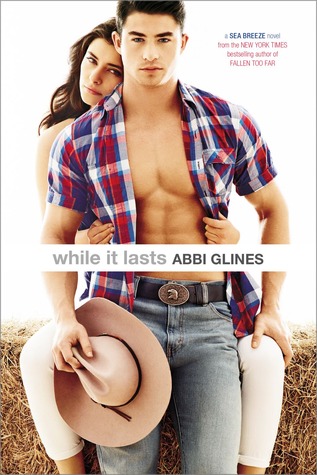 Sea Breeze #3
Author: Abbi Glines
Date Released: October 6th 2012 (paperback release)
Publisher: Simon Pulse
Cage brings his playboy prowess to the countryside as the Sea Breeze hookups continue, from self-published phenomenon Abbi Glines.

Low broke Cage's heart by getting with Marcus in Because of Low. Cage went into a tailspin that ended in a DUI. In order to salvage his baseball scholarship—the one thing he truly valued besides Low—Cage must take a summer job. At a farm. Away from Sea Breeze. With lots of cows, but no hot girls. Maybe that's what Cage needs to get back on track.

But wait—there's that hostile daughter of the farm boss. She's pretty and occasionally sweet, and there seems to be a lot of sadness and mystery behind her anger. Cage is dying to strip her down—physically and mentally—in the back of the barn. But is he prepared for what will happen afterward?
---
If you didn't know already, Abbi's 3rd book in the Sea Breeze series was optioned this past October. The production company that nab the rights is Red Rock Pictures that's run by Gary O'Toole. Actor Addam Bramich is already attached to star as the male protagonist Cage.
You can follow along on the latest news by hitting the "LIKE' button of the
While It Last Facebook page
. You can visit to read question O'Toole and Glines answered about the film on 1/22/15.
---
Supernatural Thriller
Release: July 24, 2015, in 3D
Director: Gil Kenan
Screenplay by: David Lindsay-Abaire
Produced by: Sam Raimi, Robert Tapert, Roy Lee
Cast: Sam Rockwell, Rosemarie DeWitt, Jared Harris, Jane Adams
Legendary filmmaker Sam Raimi ("Spiderman," "Evil Dead", "The Grudge") and director Gil Kenan ("Monster House") contemporize the classic tale about a family whose suburban home is haunted by evil forces. When the terrifying apparitions escalate their attacks and hold the youngest daughter captive, the family must come together to rescue her before she disappears forever.
POLTERGEIST Official Socials:
Be sure to check out the end of the trailer – for a limited time those who visit
DiedinHouse.com
can enter the promo code POLTERGEIST to find out if someone has died in their own house! Check it out to uncover the secrets of your own home.