---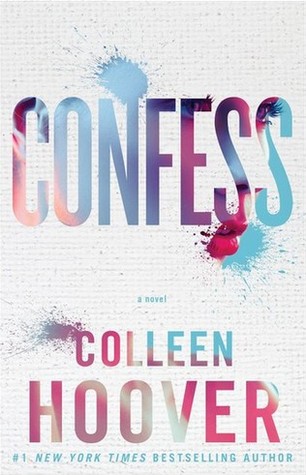 Confess
Author: Colleen Hoover
Reading Level: New Adult
Genre: Contemporary Romance
Release Date: March 10th 2015
Review Source: Atria Books
From #1 New York Times bestselling author Colleen Hoover, a new novel about risking everything for love—and finding your heart somewhere between the truth and lies.

Auburn Reed has her entire life mapped out. Her goals are in sight and there's no room for mistakes. But when she walks into a Dallas art studio in search of a job, she doesn't expect to find a deep attraction to the enigmatic artist who works there, Owen Gentry.

For once, Auburn takes a risk and puts her heart in control, only to discover Owen is keeping major secrets from coming out. The magnitude of his past threatens to destroy everything important to Auburn, and the only way to get her life back on track is to cut Owen out of it.

The last thing Owen wants is to lose Auburn, but he can't seem to convince her that truth is sometimes as subjective as art. All he would have to do to save their relationship is confess. But in this case, the confession could be much more destructive than the actual sin…
I confess: I butterflying love Colleen! It is so easy to love her books, to devour them. As easy it is to read and love her books, it is also very hard to review them. There is no words to describe how amazing her words are.
I've been a fan of Colleen Hoover since the beginning. Yet this woman never seems to stop to impress me. It's like she knows exactly what I need and is her mission to fulfill me with happiness. Cheesy, I know. But the truth. I never do get tired of recommending her books. So if you have not read any of her books, do yourself a favor and start this moment with Confess.
Believe me when I say this, Colleen had me in tears within seconds of starting Confess. The prologue itself. I felt in love right away. God, she never fails. All the emotions in a prologue. As I continued reading, this book came close to Hopeless. If you know me well, then you know Hopeless is one of my all time favorites. I guess since it deals with fate. Yes, I am a sucker for love.
Autumn moved from Portland to Texas with one goal. Her life is set with rules and is mapped out. She knows what she needs to do to achieve this goal. One of these steps is to earn cash. Decent cash that will not get her into trouble. As she stumbles upon a window with a great opportunity, she's willing to take a leap of faith. Little did she know, opening this door will completely change her life.
As she meets Owen, Autumn begins to wonder many things. Why did he hire her immediately? She knows he is keeping something from her. But she needs the cash and he is willing to pay her. He needs her help with his art exhibit. She needs the money. He looks decent. So why not? Boy oh boy, does her life take a turn. Things begin to crumble and her goal seems to be impossible.
I did not expect this story to turn out the way it did. I LOVED IT! It was beautiful! Brilliant. I love when life gives you lemons just to make you appreciate it. To take that leap of faith no matter the challenges it brings. To love with no doubt. AH! Loved it!
You MUST read Confess. You must read all of Colleen's books. You do not want to miss out! She is a phenomenal writer. Her stories are inspiring. Her stories are worth reading. She is an auto buy author. Geez, what are you waiting for?! Go buy this book now!
---
Colleen Hoover is the #1 New York Times bestselling author of Slammed, Point of Retreat, This Girl, Hopeless, Losing Hope, Maybe Someday, and Finding Cinderella. She lives in Texas with her husband and their three boys. Please visit
ColleenHoover.com
.
Enter for a chance to win! Visit
Atria's Tumblr
page from 3/9 – 3/22 to enter to win one of five signed copies of CONFESS.