---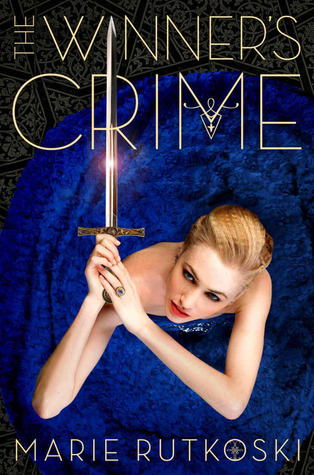 The Winner's Crime
The Winner's Trilogy #2
Author:
Marie Rutkoski
Reading Level: Young Adult
Genre: Fantasy
Released: March 3rd 2015
Publisher: Farrar Straus Giroux
Book two of the dazzling Winner's Trilogy is a fight to the death as Kestrel risks betrayal of country for love.

The engagement of Lady Kestrel to Valoria's crown prince means one celebration after another. But to Kestrel it means living in a cage of her own making. As the wedding approaches, she aches to tell Arin the truth about her engagement…if she could only trust him. Yet can she even trust herself? For—unknown to Arin—Kestrel is becoming a skilled practitioner of deceit: an anonymous spy passing information to Herran, and close to uncovering a shocking secret.

As Arin enlists dangerous allies in the struggle to keep his country's freedom, he can't fight the suspicion that Kestrel knows more than she shows. In the end, it might not be a dagger in the dark that cuts him open, but the truth. And when that happens, Kestrel and Arin learn just how much their crimes will cost them.
CHAPTERS 11-20



You know what was great about this section, Arin and Kestrel. Now it's extremely tough for me to put a pause on this book and come and do the read along. But I must, and I shall put all my feelings and thoughts in gifs and quotes.

"Pressing where you're not invited seems to be a habit with you."

"And yours is to put people in their place. But people aren't gaming pieces. You can't arrange them to suit yourself."

And Kestrel, that girl, I can't wait to see where all her scheming takes her, but man does it completely freak me out. This book just keeps pulling, and pulling, and pulling me in, I'm at the point where I'll just call in sick to work to finish (I won't though, that wouldn't be responsible).

AND KESTREL'S MOTHS
Then that knife scene...
"Let's make you pretty."
That had me all like...
"I warn you, I'm pretty good."
Kestrel smiled. "I'm better."
"I trust you."
You shouldn't."
"I know," he muttered.
My post-its keep on growing, and you guys I am LOVING this book.
---
a Rafflecopter giveaway