---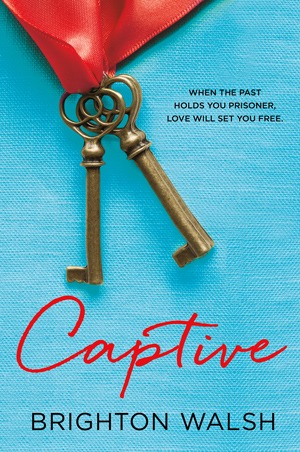 Captive
Captive #1
Author:
Brighton Walsh
Reading Level: New Adult
Genre: Romance
Released: March 24th 2015
Review Source: St. Martin's Griffin
He's the most dangerous man she's ever met…and she's falling in love with him.

Madison Frost is desperate to escape her life. Daughter of a prominent businessman, she has everything a girl could ask for. Except for a family who's present in her life, and anyone to talk to outside the four walls of the prison she calls home. Madison dreams of one day leaving her life behind. She never thought being kidnapped is how it would happen.

Now she's being held captive by a man who's as frightening as he is sinfully gorgeous. Enormous, muscular, and filled with secrets, the man they call Ghost is an enigmatic mercenary, and Madison is trapped with him. She doesn't know who hired him or why, but the more time she spends at his mercy, the more she realizes he's not what he seems. Beneath his rough exterior lies an unexpected gentleness and a heart as broken and battered as her own.

But as Madison lets down her walls, Ghost holds tight to his, hiding secrets that could destroy everything.
Captive
follows Madison Frost, a girl whose life may look perfect on the outside, but is far from perfect on the inside. Madison's mom is under a constant haze of alcohol and pills, while her dad is too busy with his professional life to know an ounce of what's actually going on at home. Every morning Madison gets up and checks on her mother, cleaning up her mess of bottles, making sure she's alive, and always wishing her life was something other than what it is.
Then one day while she is waiting for her ride to pick her up she feels an odd shiver go up her spine and then all of sudden there's hands around her and something covering her mouth and then everything is a blur.
Then we get to meet Ghost, the captor, the unknowingly sexy man. He's been hired to kidnap Madison and hold her until some unknown deal goes through. While spending time with Madison, Ghost begins to open up; showing his true character, under all that anger and muscle there's truly a softy under there.
Brighton Walsh is definitely climbing up to one of my favorite NA authors. I love the relationships that build her story, and the sexy times are definitely sexy. Captive's relationship sort of moved fast for me, she was abducted and then within days she was falling for Ghost, but they were with each other 24/7, so relationships will build faster than any other time. Madison definitely grew from the girl she was in the beginning to the woman she became by the end. When stories have a true growth with their characters it's what draws me in more, makes me enjoy the story more, seeing the characters relationship together become something and then them becoming something themselves.
Brighton Walsh is one to keep on your radar.
Captive
was enticing and hooked me within pages. You'll want to pick this one up, even if it's just to find out the ending, and how everything comes full circle.