---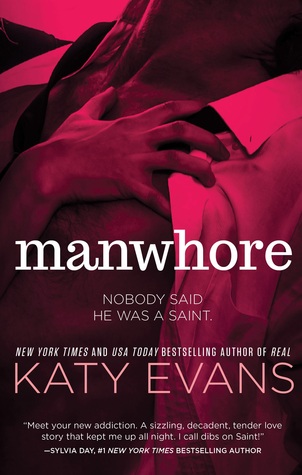 Manwhore
Manwhore #1
Author: Katy Evans
Reading Level: Adult
Genres: Contemporary Romance
Release Date: March 24th 2015
Review Source: Gallery Books
Is it possible to expose Chicago's hottest player--without getting played?

This is the story I've been waiting for all my life, and its name is Malcolm Kyle Preston Logan Saint. Don't be fooled by that last name though. There's nothing holy about the man except the hell his parties raise. The hottest entrepreneur Chicago has ever known, he's a man's man with too much money to spend and too many women vying for his attention.

Mysterious. Privileged. Legendary. His entire life he's been surrounded by the press as they dig for tidbits to see if his fairytale life is for real or all mirrors and social media lies. Since he hit the scene, his secrets have been his and his alone to keep. And that's where I come in.

Assigned to investigate Saint and reveal his elusive personality, I'm determined to make him the story that will change my career.

But I never imagined he would change my life. Bit by bit, I start to wonder if I'm the one discovering him...or if he's uncovering me.

What happens when the man they call Saint, makes you want to sin?
When I was asked if I would be interested in reading the first book in a new series by Katy Evans, I didn't hesitate at all. Katy Evans is an automatic YES in my list. Evans' Real series is one of my all-time faves, so of course I knew I had to read Manwhore. And honestly with a title like that, you can't help yourself but be curious. You just want to know who earn such a nickname. Well ladies, the proud owner of that nickname is Malcolm Kyle Preston Logan Saint a.k.a. Saint. Seems only fitting that a man with a last name like Saint be titled a manwhore.
The story is entertaining from start to finish. You will feel part of everything going on between Rachel and Saint. It's great to watch how they immediately don't jump at each other but it slowly develops to much more than they believe it would become. Rachel is out to get the exclusive scoop about Malcolm but that turns into her falling hard for the playboy. And Malcolm is intrigued by the one person who isn't kissing his feet and is actually a challenge to him. They are both going down avenues they haven't crossed before and the question is, will they both make it to the end of road without hurting one another?
You learn about how life can change what you thought was important and really make you evaluate everything, so you see that what you thought was important, really isn't. And how relationships aren't always cookie-cutter romances you only read about in novels, but they take work and sacrifices in life to achieve a good one. Katy Evans is a mastermind when it comes to writing about real life issues and scenes. Evans brought that to Real series and after reading Manwhore, she is bringing it to the Manwhore series also. I can't wait to see what lies ahead in this series. Even a manwhore can be turned into a Saint but keep his naughty side for the one he loves. Highly recommended to those who love a non-conventional love story.
---
On Friday we are bringing you guys an exclusive interview with Katy Evans herself, so make sure to tune in them.
And today we are happy to be able to provide a paperback copy of
Manwhore
to one winner (US and Canada residents only). Fill out form below and good luck!