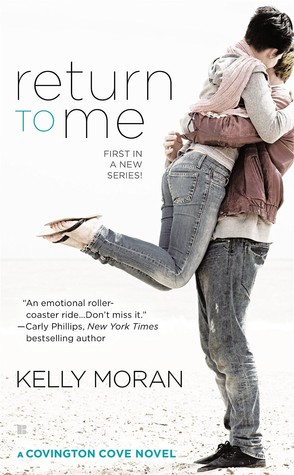 Return to Me
Covington Cove #1
Author:
Kelly Moran
Reading Level: Adult
Genre: Contemporary
Released: March 3rd 2015
Review Source: Berkley
With every beat of the heart comes a memory of what could have been…

Ten years ago, Cole Covington was just another rich kid who got everything he wanted—including young and trusting Mia Galdon. Then one night everything changed, and two hearts were shattered. Cole buried his guilt in the military, where love was just part of the past. Now Cole has come back home, emotionally damaged, guarded, and unprepared for what's waiting for him…

At the urging of Cole's sister, Mia has returned to the Covington family's coastal home in Wilmington as a private nurse to help Cole recover. With her uncertain personal life at a crossroad, Mia doesn't have the luxury of saying no to the job. And she soon finds out that the attraction is still alive. So are memories of betrayal. But Mia will discover more than the power of resilience. She'll discover a secret Cole has held for years, one that will force them to confront the past and give new meaning to letting go, forgiveness, and a future worth fighting for.
Return to Me is such a sweet but great read. The type of book that makes you wish to be part of this fairy-tale story. The type that most women wish to be swept off their feet by a charming and beautiful man in real life.
When is meant to be, love will always conquer. No matter what the circumstances are. In this story, Colton aka Cole Covington falls in love with Mia Galdon. As teenagers, these two devoted themselves to each other. But Mia did not meet the Covington's standards to date Cole. Dating the maid's daughter is out the question. One night, something unexpected happens in which will shattered them apart.
Where there was fire ashes remain. Now grown, Mia is to take care of Cole, an injured Army warrior. These two will bump heads, fight but most of all rekindle the love for one another. It was such a bittersweet journey.
As a fan of Nicholas Sparks stories, I highly recommend Return to Me to every love sucker fans out there. Kelly Moran wrote such a powerful story. One that is meant to be to be on the big screen. I cried with this one. Such a sweet, adorable and happy ending.