---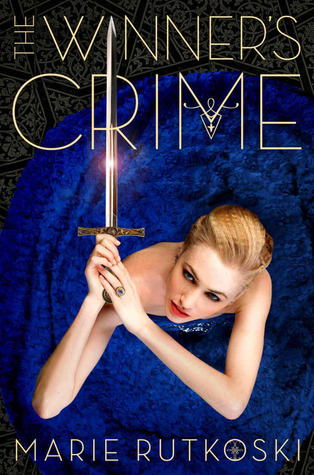 The Winner's Crime
The Winner's Trilogy #2
Author:
Marie Rutkoski
Reading Level: Young Adult
Genre: Fantasy
Released: March 3rd 2015
Publisher: Farrar Straus Giroux
Book two of the dazzling Winner's Trilogy is a fight to the death as Kestrel risks betrayal of country for love.

The engagement of Lady Kestrel to Valoria's crown prince means one celebration after another. But to Kestrel it means living in a cage of her own making. As the wedding approaches, she aches to tell Arin the truth about her engagement…if she could only trust him. Yet can she even trust herself? For—unknown to Arin—Kestrel is becoming a skilled practitioner of deceit: an anonymous spy passing information to Herran, and close to uncovering a shocking secret.

As Arin enlists dangerous allies in the struggle to keep his country's freedom, he can't fight the suspicion that Kestrel knows more than she shows. In the end, it might not be a dagger in the dark that cuts him open, but the truth. And when that happens, Kestrel and Arin learn just how much their crimes will cost them.
CHAPTERS 1-10
Alright, so who's ready to talk about this? Me. But who doesn't know what to say without giving too much away? Me. But really all of you should have read the first one and are now ready to eat their way through this sequel. I have no idea how I'm even going to put this one down once I get even further in.
One thing I want to talk about is that sugar fork, um hello, where can I get myself one of those? Yum.
Then the General gave Kestrel the a coin, a coin with the sign of Jardis; Jardis being the warrior from an ancient Valorian legend, who's story gave some mirroring of her own life.
Kestrel is a warrior, Kestrel is strong, and Krestel can definitely be intimidating...
"If you won't be my friend,"
She told Verex,
"you'll regret being my enemy."
And let's not forget about Arin, who is now the governor of Herran, after Kestrel's deal. Arin is making me swoon hardcore now with his constant inner battles over Kestrel.
"She'd felt it before, she felt it now: the pull to fall in with him, to fall into him, to lose her sense of self."
And then this is my book just after the first 100 pages. All tagged with things I wish I could talk about, things I did talk about, and things I know will unravel into one big mess later on.
---
a Rafflecopter giveaway