Welcome to our stop on The Remedy tour for Suzanne Young. This tour is hosted by Rockstar Book Tour.
---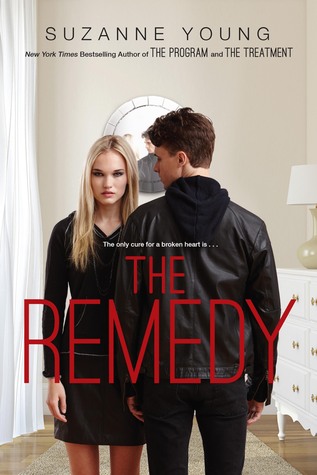 The Remedy
Author: Suzanne Young
The Program #0.5
Reading Level: Young Adult
Genre: Science Fiction
Released: April 21st 2015
Publisher: Simon Pulse
In a world before The Program…

Quinlan McKee is a closer. Since the age of seven, Quinn has held the responsibility of providing closure to grieving families with a special skill—she can "become" anyone.

Recommended by grief counselors, Quinn is hired by families to take on the short-term role of a deceased loved one between the ages of fifteen and twenty. She's not an exact copy, of course, but she wears their clothes and changes her hair, studies them through pictures and videos, and soon, Quinn can act like them, smell like them, and be them for all intents and purposes. But to do her job successfully, she can't get attached.

Now seventeen, Quinn is deft at recreating herself, sometimes confusing her own past with those of the people she's portrayed. When she's given her longest assignment, playing the role of Catalina Barnes, Quinn begins to bond with the deceased girl's boyfriend. But that's only the beginning of the complications, especially when Quinn finds out the truth about Catalina's death. And the epidemic it could start.
Hi Suzanne, thank you for this interview. Can you tell us a little about yourself and your background?
I've been writing since I was in sixth grade, although I killing off all of your friends in a murder mystery can only make you so popular. I have a BA in Creative Writing and teach high school English. THE PROGRAM was my third series.
What influence you to write The Program series? Why such heavy subject?
Personal experience mixed with an exaggerated vision of the future. I read about suicide clusters, outbreaks, and epidemics. I read about lobotomies and the fact that they were an acceptable form of treatment. I wanted to tell a story that wasn't my own, but could convey the loneliness I felt, the overwhelming loss, and the fact that I came through on the other side.
Is there a message that you want readers to grasp?
That there is always hope, even when it feels like you're in the middle of a crisis. We can't always see it. My wish is that this series gives them the bit of light they need to get through the dark.
What are you top 5 favorite moments from The Program series (including novella).
1. Opening scene with Kendra getting dragged out of class (Program)
2. Sloane and James camping (Program)
3. Sloane fighting to get out of the Program (Treatment)
4. Dallas's epilogue (Treatment)
5. Realm and James as friends in The Recovery
What were your biggest challenges in writing The Remedy?
Researching grief counseling. The treatments in the book are based on actual grief counseling approaches, so I wanted to make sure I understood the process well.
What are you working on now and can you share that with me?
I'm working on THE EPIDEMIC, the sequel to THE REMEDY. I'm also thinking out a short story about Sloane and James.
Can you give a hint of what's to come?
THE EPIDEMIC will shed light on the start of The Program, but it will also show what Quinn has been through up until this point. There are some serious WTF moments to come.
---
Suzanne Young is the New York Times bestselling author of The Program series. Originally from Utica, New York, Suzanne moved to Arizona to pursue her dream of not freezing to death. She is a novelist and an English teacher, but not always in that order.
Suzanne is the author of THE PROGRAM, THE TREATMENT, THE REMEDY, and HOTEL RUBY. She was also on an episode of House Hunters where she talked about her love of grass and trees (while living in the desert).
2 winners US only
1 winner will receive a signed set of The Program, The Treatment, and The Remedy.
1 winner will receive a signed ARC of Hotel Ruby.
a Rafflecopter giveaway
Week One:
4/13/2015- Once Upon a Twilight- Interview
4/14/2015- Books and Swoons- Review
4/15/2015- Fictitious Delicious- Guest Post
4/16/2015- My Reading Room- Review
4/17/2015- Fiktshun- Interview