Welcome to our stop on Still Waters tour for Ash Parsons. This tour is hosted by
PenguinTeen
.
---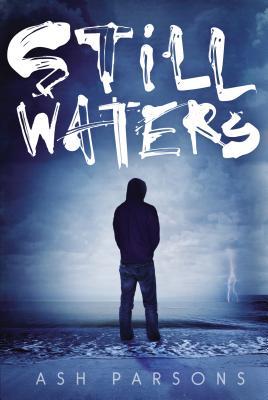 Still Waters
Author: Ash Parsons
Reading Level: Young Adult
Genre: Contemporary
Release Date: April 21st 2015
Publisher: Philomel Books
A gritty, powerful debut that evokes The Outsiders. You won't be able to look away.

High school senior Jason knows how to take a punch. Living with an abusive father will teach a kid that. But he's also learned how to hit back, earning a reputation at school that ensures no one will mess with him. Even so, all Jason truly wants is to survive his father long enough to turn eighteen, take his younger sister, Janie, and run away.

Then one day, the leader of the in crowd at school, Michael, offers to pay Jason to hang out with him. Jason figures Michael simply wants to be seen with someone with a tough rep and that the money will add up fast, making Jason's escape plan a reality. Plus, there's Michael's girl, Cyndra, who looks at Jason as if she sees something behind his false smile. As Jason gets drawn deeper into Michael's game, the money keeps flowing, but the stakes grow ever more dangerous. Soon, even Jason's fists and his ability to think on his feet aren't enough to keep his head above water.

Still Waters is an intense, gritty thriller that pulls no punches—yet leaves you rooting for the tough guy. A powerful, dynamic debut.
Let me start by congratulating you on debut novel, Still Waters! What's it like having successfully finished your first book? How does it feel?
It's wonderful and surreal. I keep being surprised that people have read it – that it's out there. I got my copy, the hardback, recently - the final edition that's going into stores and into reader's hands. That has helped me believe it. Honestly, I'm on cloud nine. It feels sublime.
How did it feel to get the phone call from your agent?
Do you mean the call when she was expressing interest to represent me? That was a mixture of joy and terror, actually. I was so afraid I was going to say something stupid or bleat like a goat or otherwise come across as not an author she would want to work with. Fortunately I didn't do any of those things.
If you mean how did it feel to get the call that the book had sold to Philomel, that was downright transcendent. I was in a Chinese restaurant with one of my best friends and I went into the bathroom to take the call in quasi-privacy. I screamed. Everyone in the restaurant heard. Fortunately, they could tell it was joy-screams and they left me alone in there….or perhaps they were afraid to check, lol.
Can you tell us a little bit about yourself?
I'm very tall, I can get loud. I'm enthusiastic by nature. Sincere enthusiasm takes you places, I've found. I love having adventures and traveling, and staying home and watching tv, equally. It's a conundrum wrapped in an enigma, reading in a blanket fort.
How did you come up with the idea for Still Waters? Did it start in your journals? What kind of research did you do?
The idea for Still Waters started when a student of mine didn't show up for school. He'd been shot in a hunting accident (and was fine), but there were crazy rumors at first. It made me remember a murder that happened when I was in high school, and all the rumors around what had "happened" after the fact, when we would never really know. Still Waters is a complete work of fiction, but it started in me thinking about those things. It just took on a life of it's own. I didn't have to do much research, although I did have some questions about some medical stuff. I was able to ask my spouse about that because he's a fire-fighter/certified EMT.
What does your writing process look like? What puts you in the best mood for writing? What makes writing "difficult?"
My writing process is basically "bum in seat." I strive to write every day – usually I'm aiming at what I tag #MDWC – Minimum Daily Word Count. It can be as low as 200 words if I'm feeling pressed/blocked. Since I have small children my best time to write is as early in the morning as I can, but I will write anytime, anywhere, just to get the words in. It feels like a pressure building, and I have to do it. I am addicted, actually. I have all the classic signs. The best thing is writing with friends, either in real life or in word sprints in chat or on twitter. That's my favorite. Writing becomes difficult for me
when I'm not doing it every day. I start to doubt what I'm working on, I start to listen to negative voices in my head, etc. Also not enough sleep hurts, but I'm chronically sleep deprived right now (small children) so I can hack around some of that.
Any ideas for another book? What's next?
Oh goodness, yes! (see: addicted to writing) Book two (as of yet un-titled) will be released in Summer 2016 – it's about celebrity and fan-culture on the internet. I'm really absorbed with the ways in which performers/celebrities are influenced by internet accessibility…. the quick judgements that happen. Also I am fascinated with the manifold ways that pressure reveals and magnifies the stacked-traumas or unmet-needs of childhood….I think it has to be pretty awful to be a child/young person and be a celebrity. I wanted to examine that.
Last but not least, What are 5 random facts about yourself?
1. I love, love, love Korean food. My parents met and got married in Korea, so we grew up eating it a LOT.
2. I fixate on songs and will play that song over and over and over and over until I have worn out the digital file. It drives my spouse NUTS. My kids are just like me so I WIN. ;0)
3. I have three little boys in the house. I have taken to buying pink things as an act of self-defense. Leave my stuff ALONE, boys!
4. I'm obviously super-mature if I am so possessive of "my stuff." Lol
5. If you watch The Walking Dead, you might have seen me stumbling around in the far distance or banging on the prison fence in s4. Then again, I usually had my zombie-rags on and head down so probably not. :D
WE SEE YOU ASH!
---
Ash Parsons has been involved in Child and Youth Advocacy since college. Recently she taught English to middle- and high-school students in rural Alabama. Watching some of her students face seemingly impossible problems helped inspire her first novel, Still Waters. Additionally she has taught creative writing for Troy University's ACCESS program and media studies at Auburn University. Ash lives in Alabama with her family. Still Waters is her first novel.
a Rafflecopter giveaway