---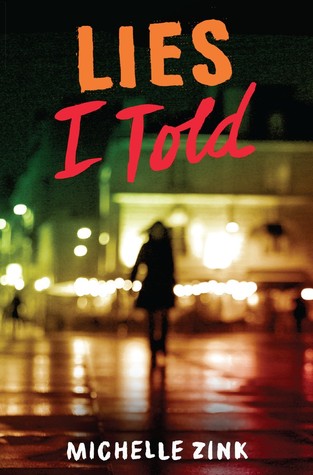 Lies I Told
Lies I Told #1
Author:
Michelle Zink
Reading Level: Young Adult
Genre: Contemporary
Released: April 7th 2015
Publisher: HarperTeen
What if, after spending a lifetime deceiving everyone around you, you discovered the biggest lies were the ones you've told yourself?

Grace Fontaine has everything: beauty, money, confidence, and the perfect family.

But it's all a lie.

Grace has been adopted into a family of thieves who con affluent people out of money, jewelry, art, and anything else of value. Grace has never had any difficulty pulling off a job, but when things start to go wrong on the Fontaines' biggest heist yet, Grace finds herself breaking more and more of the rules designed to keep her from getting caught...including the most important one of all: never fall for your mark.

Perfect for fans of Ally Carter, Cecily von Ziegesar, and Gail Carriger, this thrilling, high-stakes novel deftly explores the roles of identity and loyalty while offering a window into the world of the rich and fabulous.
Fill-In Questionnaire
Something you might not know about me is:
My first series, Prophecy of the Sisters, was published in over twenty countries.
The best surprise ever would be:
To have someone take me out to a nice meal (when you're a single mom who has sworn off dating for the time being, that doesn't happen very often).
The best part of my day is:
Anytime I get to see my kids.
Something I am willing to fight for is:
My family and the life I want for them (and for me).
Some wise words I love are:
"The phoenix must burn to emerge." - Janet Fitch, White Oleander
Best cure for a bad day is:
A cup of tea, an awesome snack (I'm not a saint!), my favorite blanket, and a book or a movie.
Happy ever after is:
Having the freedom to do the things you want to do with the people you love.
I hope to:
Travel extensively after my kids are grown.
I dream of:
A little beach house in Maine. I love Maine.
I am passionate about:
Life. Love. Family. Loyalty. Children. Art. Everything.
I think everyone should:
Meditate.
Right now I am super into:
Whole30/Paleo. It's a huge departure from my former vegetarian lifestyle, but I feel so much better!
A world without books is:
A world diminished in empathy, thought, and imagination.
The most beautiful thing I've ever seen was:
Everyday people doing their best to find joy and spread love against all odds.
---
Michelle Zink lives in New York in an old converted barn on four acres. Her first book, Prophecy of the Sisters, was one of Booklist's Top Ten Debut novels, and her work as been included in the Lonestar List, Chicago Public Library's Best of the Best, and New York Public Library's Stuff for the Teen Age. Michelle's work has been published in over twenty countries. LIES I TOLD is her sixth book.