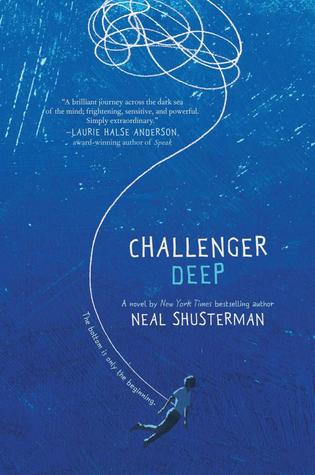 Challenger Deep
Author:
Neal Schusterman
Reading Level: Young Adult
Genre: Contemporary
Released: April 21, 2015
Review Source: Harper Collins
Caden Bosch is on a ship that's headed for the deepest point on Earth: Challenger Deep, the southern part of the Marianas Trench.

Caden Bosch is a brilliant high school student whose friends are starting to notice his odd behavior.

Caden Bosch is designated the ship's artist in residence, to document the journey with images.

Caden Bosch pretends to join the school track team but spends his days walking for miles, absorbed by the thoughts in his head.

Caden Bosch is split between his allegiance to the captain and the allure of mutiny.

Caden Bosch is torn.

A captivating and powerful novel that lingers long beyond the last page, Challenger Deep is a heartfelt tour de force by one of today's most admired writers for teens.
Challenger Deep was a difficult read- both emotionally and technically. Neal Schusterman dives into the issue of mental health, and through his character, Caden, he couldn't describe it more perfect. The writing style is very strange and weird, but goes with the story perfectly. And, although I was confused at the beginning of the book, once I got the hang of it and understood Caden more and more, reading the book became easier.
Caden is such a beautiful character. He struggles with a mental health issue, and seems like he is unable to differentiate reality from non-reality. And, though there are secondary characters (quite strange characters), you never lose focus of Caden. He truly makes this read.
I enjoyed this book very much, and I could see it appealing to many young readers. Neal Schusterman has a way with words that will make you want more and more... Challenger Deep is definitely not a light read, but it is for sure a book worth reading!