Today I'm excited to be a part of Katie McGarry's Nowhere But Here blog tour.
Nowhere But Here was AMAZING! Highly recommended. Keep reading as I'll share details about McGarry's latest release and her exclusive post about "FEARS".
---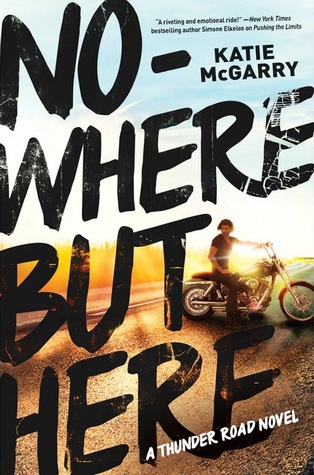 Nowhere But Here
Thunder Road #1
Author:
Katie McGarry
Reading Level: Young Adult (mature)
Genres: Contemporary Romance | Motorcycles
Released: May 26th 2015
Review Source: Harlequin Teen
An unforgettable new series from acclaimed author Katie McGarry about taking risks, opening your heart and ending up in a place you never imagined possible

Seventeen-year-old Emily likes her life the way it is: doting parents, good friends, good school in a safe neighborhood. Sure, she's curious about her biological father—the one who chose life in a motorcycle club, the Reign of Terror, over being a parent—but that doesn't mean she wants to be a part of his world. But when a reluctant visit turns into an extended summer vacation among relatives she never knew she had, one thing becomes clear: nothing is what it seems. Not the club, not her secret-keeping father and not Oz, a guy with suck-me-in blue eyes who can help her understand them both.

Oz wants one thing: to join the Reign of Terror. They're the good guys. They protect people. They're…family. And while Emily—the gorgeous and sheltered daughter of the club's most respected member—is in town, he's gonna prove it to her. So when her father asks him to keep her safe from a rival club with a score to settle, Oz knows it's his shot at his dream. What he doesn't count on is that Emily just might turn that dream upside down.

No one wants them to be together. But sometimes the right person is the one you least expect, and the road you fear the most is the one that leads you home.
Cover:
I love every inch of that cover. From the font to the color palette used. I'm glad the cover
actually matches the story with the motorcycle. So happy its not another cover with a girl and a guy kissing or hugging. This cover just pop for me. Wouldn't you agree?
Action:
Yes plenty of action throughout the book. We are dealing with motorcycle clans that are rivals. Your heart will be hurt and also filled with love during all the highs and lows. Kept me at the edge of my seat most of the time.
Romance:
With a guy named Oz, you know there has got to be some really delicious romance in this book. I like how Emily and Oz build but fight it also. Will have to read to see how they end up. Lots of pieces to be picked up and they both will need each other.
Something I loved:
I really loved how Emily started to accept her father side of the family and the relationship that develop with her snarky grandmother. Will fill you with joy but have tissue on hand.
Favorite quote:
"This is your family … If you learn to love us then you will forever have our love in return."
---
FEAR written by Katie McGarry
Let's get one thing straight. I hate funeral homes. Hate. I hate the smell of them. I hate the look of them. I hate the thought of them. Hate. And what I hate more than funeral homes are dead things. Dead bugs. Dead dried-up worms on the sidewalk. Roadkill. And since that ill-fated stroll in the woods at the age of eight when I fell into a hole and spent the night with a corpse, I hate dead people's bodies.
--From Emily
NOWHERE BUT HERE
I one million percent empathize with Emily on the above statement. Emily, the seventeen-year old main character in my newest Young Adult novel,
NOWHERE BUT HERE
, is terrified of dead bodies. Honestly, though she isn't quite aware of it at this point in the story, what Emily is really scared of is death.
And for a long period of time, so was I.
As a young child, I refused to walk into a room where there's a dead body. It sent chills down my spine, caused my hands to become cold and clammy, and my stomach would churn.
On the occasion I had to go to a funeral home, my parents would often sit me in a chair outside the viewing room and I would wait impatiently, imagining all of the horrible things that might happen if we didn't leave the funeral home that moment. To be honest, I was imagining Walking Dead episodes at least thirty years before the show ever aired. But in my head, I ran screaming when a zombie appeared and never did I even think about fighting back.
In
NOWHERE BUT HERE
, Emily travels to Kentucky and visits with her estranged biological father because of news of a death. Due to unforeseen circumstances, what was supposed to be a quick trip ends up with her staying longer, and it also causes her to be staying with her grandmother—a woman who is dying of cancer.
Dying.
For Emily, this almost terrifies her as much as being inside a funeral home. Why? Emily likes her world neat and orderly and she likes to understand what's going to happen at all times. She doesn't like the unknown and that is exactly what death is…an unknown.
Emily's grandmother, though, teaches Emily a valuable lesson. She shows Emily that there is life in dying. Olivia doesn't get wrapped up in what's to come, she's more concerned with living her best life that day, that hour, that minute. Soaking up as much time as she can with the people she loves.
As Olivia put it to Emily
"I've fought a good fight and lived a great life. God calls us all home at some point."
Dying is very much a part of living. It is not something to be feared as much it is a reminder that we should enjoy every minute we have now. That time is a gift that should never be squandered.
Emily in
NOWHERE BUT HERE
faces her fears and comes out learning how to love with her whole heart and how to fight past her fear of the unknown.
---
Now thanks to the good folks over at Harlequin Teen, we have one finished copy of Nowhere But Here to give one lucky reader.