---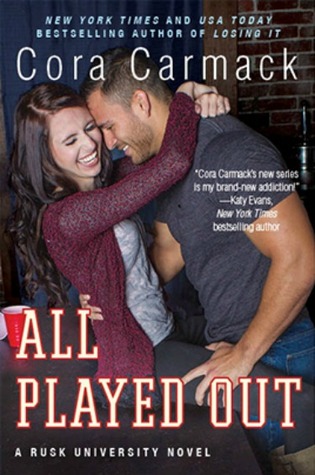 All Played Out
Rusk University #3
Author: Cora Carmack
Reading Level: New Adult
Genre: Contemporary Romance
Released: May 12th 2015
Review Source: William Morrow & Company
First person in her family to go to college? CHECK.
Straight A's? CHECK.
On track to graduate early? CHECK.
Social life? …..yeah, about that….

With just a few weeks until she graduates, Antonella DeLuca's beginning to worry that maybe she hasn't had the full college experience. (Okay... Scratch that. She knows she hasn't had the full college experience).

So Nell does what a smart, dedicated girl like herself does best. She makes a "to do" list of normal college activities.

Item #1? Hook up with a jock.

Rusk University wide receiver Mateo Torres practically wrote the playbook for normal college living. When he's not on the field, he excels at partying, girls, and more partying. As long as he keeps things light and easy, it's impossible to get hurt... again. But something about the quiet, shy, sexy-as-hell Nell gets under his skin, and when he learns about her list, he makes it his mission to help her complete it.

Torres is the definition of confident (And sexy. And wild), and he opens up a side of Nell that she's never known. But as they begin to check off each crazy, exciting, normal item, Nell finds that her frivolous list leads to something more serious than she bargained for. And while Torres is used to taking risks on the field, he has to decide if he's willing to take the chance when it's more than just a game.

Together they will have to decide if what they have is just part of the experiment or a chance at something real.
You know the saying opposites attract? Well that couldn't be more true than when it comes to Antonella and Mateo. Nell is all about school. She eats, sleeps and breaths it to the point that she is graduating early. Mateo on the other hand is the equivalent to that guy you know that is always up to something crazy. Whether it be getting super drunk and next thing you know he winds up half naked on the floor somewhere or just goofing off and acting silly with his teammates. The unlikeliness of terms bring these two together. A list. A list that Nell decided to put together because a certain roommate of hers let her know that she had to enjoy life a little more. That college is the time to experiment. Take that as you will. What is an ordinary girl to do? I'll tell you what she comes up with a list of all the crazy and wild things one does in college. Mateo gets wind of this list and makes it his mission to help her complete it. Is it to help her along or for his on personal gain? Only time can tell.
Honestly Cora can do no wrong in my book. Each new story tops the last and I'm not sure how she manages to do it every time. First thing you have to know is that All Played Out delivers. Boy does it deliver! I'm still stuck thinking about the ever charming Mateo and Nell who just happens to be his perfect fit. As many of you I've been a fan of Cora's writing since way back when. The Rusk series has a special place in my heart and with each new book my little heart expands even more. They are so refreshing to read especially in the New Adult genre where everything seems to blend. The characters Cora brings to life are truly one of a kind. They are so relaable that you can easily identify yourself with at least one of her many characters.
I must confess I was a bit apprehensive going in only because I desperately wanted this to be Stella's story. That managed to thaw out as soon as I met Nell. (I'm also insanely happy to report that the next book in the Rusk series will be Stella's!!!) She has a certain spark to her that I absolutely loved it. She doesn't hold back and she says things as they are without even thinking twice about it. Mateo on the other hand I couldn't get enough of. Silas still has the top spot in the Rusk series but getting inside of Mateo's head was truly wonderful. I couldn't stop laughing and then getting sentimental all within a span of a few pages. All Played Out was a delight to read and if you enjoyed the first two in the series you will certainly love this one as well.