---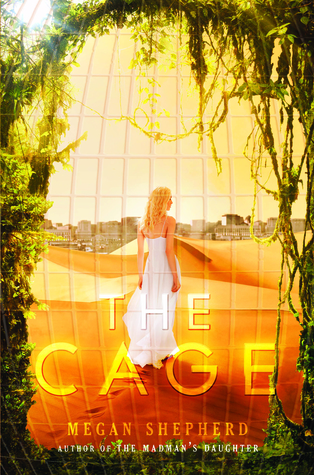 The Cage
Author:
Megan Shepherd
Reading Level: Young Adult
Genres: Fantasy | Science Fiction | Dystopian
Release Date: May 26th 2015
Review Source: Balzer + Bray
The Maze Runner meets Scott Westerfeld in this gripping new series about teens held captive in a human zoo by an otherworldly race. From Megan Shepherd, the acclaimed author of The Madman's Daughter trilogy.

When Cora Mason wakes in a desert, she doesn't know where she is or who put her there. As she explores, she finds an impossible mix of environments—tundra next to desert, farm next to jungle, and a strangely empty town cobbled together from different cultures—all watched over by eerie black windows. And she isn't alone.

Four other teenagers have also been taken: a beautiful model, a tattooed smuggler, a secretive genius, and an army brat who seems to know too much about Cora's past. None of them have a clue as to what happened, and all of them have secrets. As the unlikely group struggles for leadership, they slowly start to trust each other. But when their mysterious jailer—a handsome young guard called Cassian—appears, they realize that their captivity is more terrifying than they could ever imagine: Their captors aren't from Earth. And they have taken the five teenagers for an otherworldly zoo—where the exhibits are humans.

As a forbidden attraction develops between Cora and Cassian, she realizes that her best chance of escape might be in the arms of her own jailer—though that would mean leaving the others behind. Can Cora manage to save herself and her companions? And if so . . . what world lies beyond the walls of their cage?
The Cage
follows the story of six teenagers who have been captured by some sort of highly intelligent alien race. They consist of three boys and three girls and each pair have been marked with corresponding constellations on the side of their neck. They've been placed in a habitat that includes all types of environments. There is a town square in the center, and around that are deserts, forests, oceans, and farms. There is also some kind of optical illusion or perceptive technology in the works of this place because no matter how far down and straight you go down one path, you are always led back to your starting point. They've also been provided with a caretaker by the name of "Cassian" and he is meant to be there in any case if distress or discomfort. He explains that there are three rules to be followed if they do not wish to be removed from their biome: solve the puzzles in all of the environments, remain healthy, and reproduce.That last one sent a shock to the group. They were all teenagers that have been captured and are expected to adjust according to a deadline and begin reproduction?
There a ton of factors that go into this story. The concept may not seem like anything new, "capture the humans and study them," but the story is constantly unraveling. One thing that had bothered me about the way this book was written is the third-person point-of-view. Whenever a book is written in that format, I find myself to be distanced from the story. Also, every character's plot gets given away. Every few chapters, it would emphasize on a character.
I found it to be a cool story, though. You get see how all these different characters interact and respond to captivity and how they all came to be chosen. This is the first in a series, so I was left with a cliffhanger and some questions left unanswered, but that only left me wanting more and very expectant of the next book.