---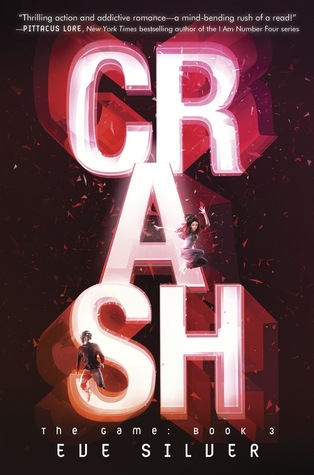 Crash
The Game #3
Author:
Eve Silver
Reading Level: Young Adult
Genre: Science Fiction | Aliens
Released: June 9th 2015
Review Source: Katherine Tegen Books
A thrilling action/suspense novel for fans of The Fifth Wave about contemporary teens pulled in and out of an alternate reality where battling aliens is more than a game—it's life and death.

Miki's life is falling apart around her. Her dad and best friend are lying in the hospital. The Game is glitching, making missions more frequent and more deadly. And someone close to her is waiting for the right moment to betray her.

Miki feels like she's hanging on by a thread and the only thing keeping her tethered is Jackson's hand in hers. Yet telling him how much she needs him, how much she loves him, feels like the biggest challenge of all. And if Miki really wants the missions to end for everyone, she'll have to let go and be ready to fight when the walls between the Game and reality come crashing down. Because if there's one thing she's learned, it's that she's got a whole lot left to lose.

Crash is the pulse-pounding conclusion to the Game trilogy fans won't want to miss.
If you think the first two books of this series are full of actions, wait until you read Crash. The final conclusion to this trilogy is beyond thrilling. Many secrets are revealed, the game is changed and what can I say, more swooning over Jackson! Crash is the perfect ending to The Game series. I seriously enjoyed this one the most.
Fear not, Crash is fast paced. Miki is as amazing as always, yet a little bit more of a badass than ever. If you read the first two books, then you know the second book did not end on a good term for Miki. Her father and Carly were both in a car crash, which left Miki heartbroken. Never the less, this motivates her to find ways to change or even end the game. (You will have to read to find out). In Crash, she faces more difficult tasks. For starter she comes face-to-face with an important leader, then learns the truth about someone that could help out. Someone with information that can actually help Miki and Jackson change/end the game forever.
Full of suspense, betrayals, lies and twists, Crash's end is bittersweet. Many of my questions were answered. Miki and Jackson, well what can I say? They are meant to be together. I loved how Jackson shows another side of his on this book – a more vulnerable side. We are so used to his cockiness, it was nice to see that he can also need help once in a while. Which makes him fit perfectly with Miki.
Like I said before, I honestly enjoyed Crash the most. I think Eve ended this trilogy flawlessly. I think everyone will be pleased with this ending.