---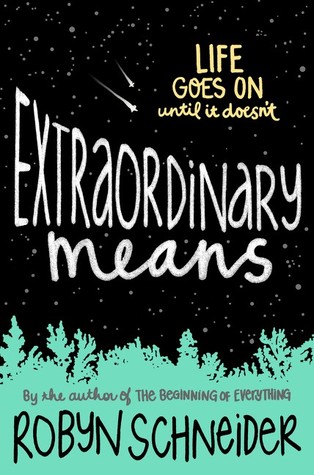 Extraordinary Means
Author:
Robyn Schneider
Reading Level: Young Adult
Genre: Contemporary
Released: May 26th 2015
Review Source: Katherine Tegen Books
From the author of The Beginning of Everything: two teens with a deadly disease fall in love on the brink of a cure.

At seventeen, overachieving Lane finds himself at Latham House, a sanatorium for teens suffering from an incurable strain of tuberculosis. Part hospital and part boarding school, Latham is a place of endless rules and confusing rituals, where it's easier to fail breakfast than it is to flunk French.

There, Lane encounters a girl he knew years ago. Instead of the shy loner he remembers, Sadie has transformed. At Latham, she is sarcastic, fearless, and utterly compelling. Her friends, a group of eccentric troublemakers, fascinate Lane, who has never stepped out of bounds his whole life. And as he gradually becomes one of them, Sadie shows him their secrets: how to steal internet, how to sneak into town, and how to disable the med sensors they must wear at all times.

But there are consequences to having secrets, particularly at Latham House. And as Lane and Sadie begin to fall in love and their group begins to fall sicker, their insular world threatens to come crashing down. Told in alternating points of view, Extraordinary Means is a darkly funny story about doomed friendships, first love, and the rare miracle of second chances.
Extraordinary Means is the story about two teenagers suffering from a terminal illness. Told in Lane's and Sadie's perspectives, we are told how the two first met, how both suffered from a prank then later came together as they shared this awful illness. As they suffer, they both start learning from one another. As the days go by, these two begin a romance, one they didn't see to last forever.
It is interesting to see how one can take different paths when told they have a limited time to live. Unlike many people, Lane took one that many do not take. He took the one that tries to prepare for the future that was not promised. He studied hard and became involved in many school activities. His ambition and goal is to attend Stanford. Yet, he never allows himself to enjoy the little time he has left. Then, we met Sadie. She is completely different from Lane. She loves trouble. Loves to lack school. What is the point? There is no future for her. As they get intimate, they learn that life is worth hoping but most of all it is important to take risk and enjoy the ride. Yeah, these two learn how to balance each other. It was cute.
To be frank with you, I didn't find this to be a sad story. Sure what is happening to them is sad, but they way they find their own strength, it brings hope. Hope that no matter if we are terminally ill, no matter if we have no future, at the end of the day, life is precious. Life is to be enjoy.
Extraordinary Means is a sweet story that warm your heart.