---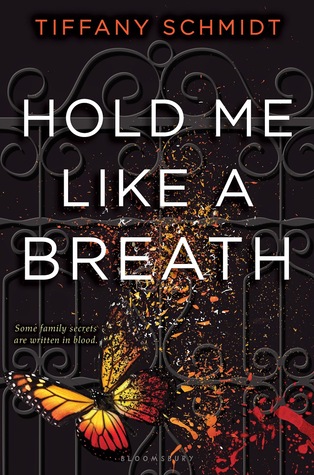 Hold Me Like a Breath
Once Upon a Crime Family #1
Author:
Tiffany Schmidt
Reading Level: Young Adult
Genre: Contemporary
Released: May 19th 2015
Review Source: Bloomsbury
Penelope Landlow has grown up with the knowledge that almost anything can be bought or sold—including body parts. She's the daughter of one of the three crime families that control the black market for organ transplants.

Penelope's surrounded by all the suffocating privilege and protection her family can provide, but they can't protect her from the autoimmune disorder that causes her to bruise so easily.

And in her family's line of work no one can be safe forever.

All Penelope has ever wanted is freedom and independence. But when she's caught in the crossfire as rival families scramble for prominence, she learns that her wishes come with casualties, that betrayal hurts worse than bruises, that love is a risk worth taking . . . and maybe she's not as fragile as everyone thinks.
Hold Me Like a Breath is the story of Penelope Landlow and her family's black market business. As spoiled child, Penelope gets everything she wants except health. She suffers from an autoimmune disorder, which causes her to bruise easily. She is like Rapunzel, locked in her house and nowhere to go. Her family takes good care of her, the best. If she do ever go outside, someone always accompanies her. See, her family controls the black market for organs, and has many enemies. Which sucks for her, she doesn't have any friends or life. Yet all she wants is freedom.
This book screams - I AM DARK, READ ME! Yes, I love dark topics. Black market and all. Yup, this book surely was not about this nor was it dark. It doesn't really tell you much about her family's business.
The first half of this book, we are learning about Penny and how she meets her one and only friend. We learn what she suffers from, Idiopathic Thrombocytopenic Purpura. She tells us how her parents spoils her, she gets everything she wants. Yet they're too scared to hug her. To even touch her. They treat her as a fragile thing - too delicate for anything and everything. How they are always traveling… Oh and how she is attracted to her brother's best friend. An obsession she wants to have but cannot. "She is in love with him".
The next half, a tragedy occurs and well she is, once again, left behind. Penny doesn't know who to trust. She meets a boy, lies to him, falls in love with him, learns the truth about his identity, wants revenge for her family but still loves him.
I have to say the first half of the book, to me, was rather boring. I was about to mark it as "DNF" but my curiosity got the best of me. I admit, most of the parts are slow paced for me, but I liked how Penny is actually doing something for herself at the end. She finally stands for her rights. She voice her opinions and actually does the action. If you watch, Game of Throne, she will remind you of Sansa. Annoying at first but then little by little (as in turtle mode), she will eventually do something for herself, and eventually, you will like her.
Overall, I am torn about Hold Me Like a Breath. It is not dark, the pacing is slow, the romance - NOT my type (being deeply in love with someone then within days you fall hard for someone else? No thank you). I did like the strong character development of the main character at the end.