---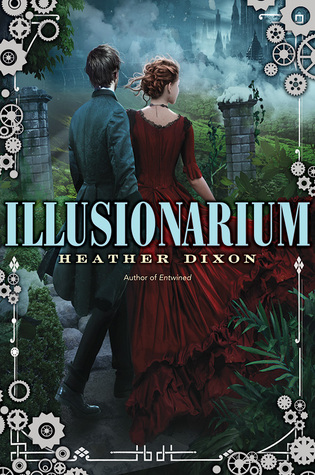 Illusionarium
Author:
Heather Dixon
Reading Level: Young Adult
Genre: Fantasy
Released: May 19 2015
Review Source: Greenwillow
What if the world holds more dangers—and more wonders—than we have ever known? And what if there is more than one world? From Heather Dixon, author of the acclaimed Entwined, comes a brilliantly conceived adventure that sweeps us from the inner workings of our souls to the far reaches of our imaginations.

Jonathan is perfectly ordinary. But then—as every good adventure begins—the king swoops into port, and Jonathan and his father are enlisted to find the cure to a deadly plague. Jonathan discovers that he's a prodigy at working with a new chemical called fantillium, which creates shared hallucinations—or illusions. And just like that, Jonathan is knocked off his path. Through richly developed parallel worlds, vivid action, a healthy dose of humor, and gorgeous writing, Heather Dixon spins a story that calls to mind The Night Circus and Pixar movies, but is wholly its own.
Jonathon is a scientist, like his father. Being enlisted by the king to find a cure for the plague is a dream come true. There's the possibility that there are two worlds, and the more they realize things the more there is for them to wonder about.
Illusionarium isn't for most readers. The first thing that threw me off from the book was that it used footnotes. There has only ever been one book that has used footnotes that I was okay with. And that was An Abundance Of Katherines by John Green. And I was okay with the footnotes because Green had the character explain, basically off the bat, that he was obsessed with footnotes. In this story I felt like I just would get to a good part and I'd have to jump down, read the footnote, then try to get back into the story. Yea the footnote was always added as if the character were speaking. But that leads me to wonder why it wasn't just in the paragraph with everything else?
The story was interesting enough. I liked the idea of the illusionist. I was laughing when they tried their hand at being an illusionist, Jonathon and his father, when the king came to visit. I would love to be one of the side characters - such as Hannah, just so I could see Jonathon as he got excited over snow that was not actually in the room with them.
I honestly think that I could've really enjoyed this book; but the footnotes, no matter how little they were in the book, took me out of it. If you can handle reading a book with footnotes in it - you should definitely pick this book up!