---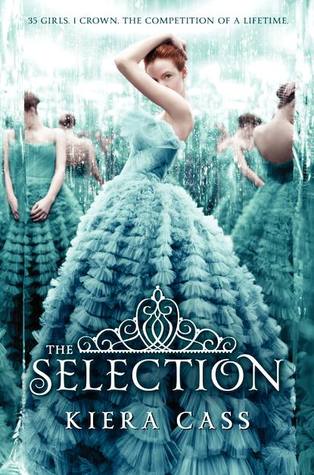 The Selection
The Selection #1
Author:
Kiera Cass
Reading Level: Young Adult
Genre: Dystopia
Release Date: April 24th 2012
Review Source: HarperCollins Children UK | Netgalley
For thirty-five girls, the Selection is the chance of a lifetime. The opportunity to escape the life laid out for them since birth. To be swept up in a world of glittering gowns and priceless jewels. To live in a palace and compete for the heart of gorgeous Prince Maxon.

But for America Singer, being Selected is a nightmare. It means turning her back on her secret love with Aspen, who is a caste below her. Leaving her home to enter a fierce competition for a crown she doesn't want. Living in a palace that is constantly threatened by violent rebel attacks.

Then America meets Prince Maxon. Gradually, she starts to question all the plans she's made for herself--and realizes that the life she's always dreamed of may not compare to a future she never imagined.
The funny thing is, this book cover has been catching my eyes for years but I never considered picking it up and reading it. Why? I was convinced that it wasn't my type of book. Prince and princess', all those girls fighting over one man and I was convinced there would be a love triangle--which aren't my favourite things, by the way. But I'm not above putting my hands up and admiting I was wrong--because I was really wrong-- because after 3 years of avoiding this book, it's now one of my favourite books from one of my favourite series.
The Selection was a surprisingly addicting book. Like, one minute I was entering book one and the next I was closing the pages to book four. I couldn't believe how much I enjoyed it. It was unlike anything I've ever read and opened my eyes to a different kind of book. Suddenly I have a craving for book covers with pretty dresses and royalty is more appealing. And the addictivness of this book made it hard to write this review, lol. I literally can't remember where book one ended and book three started. I read the series so fast that the series blurred into one epic tale.
The Selection built a world I wasn't expecting. The castes being the most shocking of them all. Each person is a number, there being eight in total, and the higher number you are the worse off your life is--the less money you make and the more likely you are to work yourself into such an exhaustion it literally kills you. America is a 5. Her life isn't as bad as an eights, but she's known what it's like to go without food or warmth. When a once in a lifetime chance to better her life pops up, she plays the game, even if it's not what she wants to do. Because there's a massive catch. The once in a lifetime chance opportunity is to become the prince's bride. Suddenly it's America and thirty-four other girls as competition-- competition for something she doesn't actually want--and things get a whole lot of interesting. It's surprising what some people will do in the heat of a competition, and America finds friendships in the most unlikely places. It's a swirl of misplaced emotions, flashing cameras, and learning to live like royalty.
America was an admirable character. When all the other girls were slapping on the extra make-up, showing a bit of extra skin and doing and saying all the right things to convince the prince to fall for them, America sticks to her guns. She stays true to herself and what she believes. Sometimes it's an honorable and admirable trait as a potential queen to be, but it also made me question her sanity sometimes. She's a free spirit who did crazy things before thinking (only occasionally, though).
If you're like me and doubted the story, just go ahead and give it a chance. It will surprise you.