---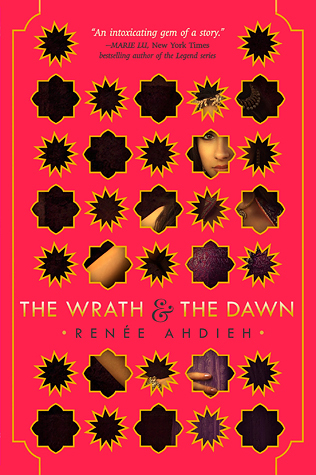 The Wrath and the Dawn
The Wrath and the Dawn #1
Author: Renée Ahdieh
Reading Level: Young Adult
Genre: Fantasy
Released: May 12th 2015
Review Source: Putnam Juvenile
A sumptuous and epically told love story inspired by A Thousand and One Nights

Every dawn brings horror to a different family in a land ruled by a killer. Khalid, the eighteen-year-old Caliph of Khorasan, takes a new bride each night only to have her executed at sunrise. So it is a suspicious surprise when sixteen-year-old Shahrzad volunteers to marry Khalid. But she does so with a clever plan to stay alive and exact revenge on the Caliph for the murder of her best friend and countless other girls. Shazi's wit and will, indeed, get her through to the dawn that no others have seen, but with a catch . . . she's falling in love with the very boy who killed her dearest friend.

She discovers that the murderous boy-king is not all that he seems and neither are the deaths of so many girls. Shazi is determined to uncover the reason for the murders and to break the cycle once and for all.
OMG... can I have a moment here? *fans self* This book is beyond my expectations! Truly a gift to all book lovers! Thank you Renee for sharing this stunning, breathtaking story.
The Wrath & The Dawn is unique in many ways. So rich in words. With such perfect pacing.
Let me tell you, the very beginning of this book had me confused. The names. The words. All confusing. Yet, I did not give up. I re-read some parts until I understood what was going on and who was who. As the pages flew by, I realized this book is unique. Then I read this page…. Oh, boy. Did I fall. Hard. And I was lost in the beauty of this tale. I devoured the pages like a wilding looking for water. As I drank in the story, I needed more. By the time I realized the time, it was too late. It was 4 am. No lie. I was completely lost in this beauty.
Gosh, it is dark. It is sexy. And it is brilliant.
If you are a fan of The Game of Thrones, you know how Daenerys is sold to marry Dothraki Khal Drogo. At first, she hates him but eventually falls in love with him. Also, how at the beginning he thought of her as just his bride, a person to have intimate moments with and nothing else... but then he also falls in love with her? Yeah, this is how the story is. If you are clueless to what I am saying, let me just say… Beauty and the Beast.
To marry Khalid is an abomination to Shahrzad. Now her best friend is gone - she married Khalie as part of the ritual. At every dawn, the new bride is to be executed. YES, executed. As revenge, she sacrifices and volunteers to be his next bride. Her mission is to avenge all the death he has caused - to kill him. Yet, what she doesn't know is that Khalid himself is doing this, not because he takes pleasure on the killings, but because it is a must.
Little by little, she becomes acquainted and begin to connect with him, later falls in love with him. She knows he is a monster, but her heart is telling her he is not. Yet, once she is told the truth, she realizes he is just a broken man with many baggage. Underneath the many layers of hatred people have against him, he is just a beautiful man taking the blame for everything. He is beautiful from the inside. He is selfless.
GOD, THIS STORY. IT IS BEAUTIFUL!
An enchanted story that will captivate your attention. A must read. Lovers of romance and fantasy would certainly adore this story. However, I recommend this book to EVERYONE! There is so much to say but it is best that you read it. Seriously, you must give this story a try. Do not let the first couple of chapters stop you. Trust me, it will be your new addiction.
Stop by
Wednesday
to read our interview with Renee Ahdieh & to enter
another
epic giveaway!
---
a Rafflecopter giveaway