---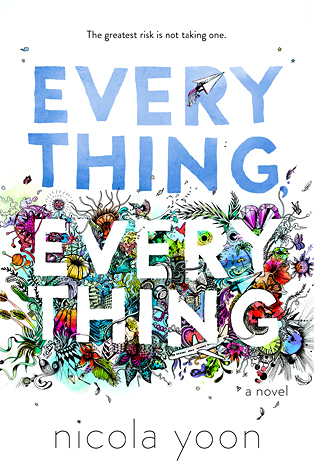 Everything, Everything
Author: Nicola Yoon
Reading Level: Young Adult
Genre: Contemporary
Released: September 1st 2015
Review Source: Delacorte Books for Young Readers
This innovative, heartfelt debut novel tells the story of a girl who's literally allergic to the outside world. When a new family moves in next door, she begins a complicated romance that challenges everything she's ever known. The narrative unfolds via vignettes, diary entries, texts, charts, lists, illustrations, and more.

My disease is as rare as it is famous. Basically, I'm allergic to the world. I don't leave my house, have not left my house in seventeen years. The only people I ever see are my mom and my nurse, Carla.

But then one day, a moving truck arrives next door. I look out my window, and I see him. He's tall, lean and wearing all black—black T-shirt, black jeans, black sneakers, and a black knit cap that covers his hair completely. He catches me looking and stares at me. I stare right back. His name is Olly.

Maybe we can't predict the future, but we can predict some things. For example, I am certainly going to fall in love with Olly. It's almost certainly going to be a disaster.
The cover of Everything, Everything is beautiful but the
story
… well I'm not much of a fan of using .gif on reviews but I can only picture the Doctor saying:
Yes, FANTASTIC.
Everything, Everything is indeed EVERYTHING.
The feelssss.
You will feel sadness, joy, love, pain, my God, this book had me in tears within the first two pages!
This beautiful-written novel is about a girl named Madeline. She was diagnosed with a rare immunological disease that prevents her from living. She is supervised 24/7 and she is also unable to leave her house. Yes, she is like the bubble boy. She has serious of allergies which are not determined. Totally suck-able because if she is expose to any germs her body cannot fight it and... she can die from anything and/or everything easily. Since she is unable to leave her house, she doesn't have any friends. Sure she goes to online school, she may have online classes, her blog followers may read her very-spoilers reviews, but at the end of the day, she doesn't have anyone to visit her or talk to. Until Olly arrives...
*GAH - the tears*
Since Madeline is very sick, her mother is extremely protective of her. Like any other mother would do in her shoe. Sometimes too over protective. What can I say, when a mother wants nothing but to keep her baby safe, she will do CRAZY things.
When you read the things Madeline is unable to do, trust me, you will be thankful. For the simple and complex things you are able to do. Even the fact of going outside to take fresh air. Unlike us, Madeline is unable to anything. Until Olly arrived. This is when Madeline was willing to take risks and be exposed to the unknown. I loved how she was willing to give life a chance, even though life has not granted her any. She gave life meaning and with Olly, these two will make you feel whole. Seriously, Maddy and Olly were perfect for each other.
And no, I will not tell you more about these two, because you need to read Everything, Everything. You'll be glue reading this epic story.
Whether you're a fan of contemporary or not, you need to add this on top of your TBR. I recommend this to everyone and I hope all of you will love it as much as I did.