---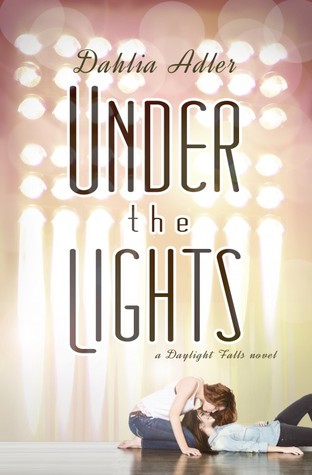 Under The Lights
Daylight Falls #2
Author:
Dahlia Adler
Reading Level: Young Adult
Genre: Contemporary
Released: June 30 2015
Review Source: Spencer Hill Contemporary
Josh Chester loves being a Hollywood bad boy, coasting on his good looks, his parties, his parents' wealth, and the occasional modeling gig. But his laid-back lifestyle is about to change. To help out his best friend, Liam, he joins his hit teen TV show, Daylight Falls...opposite Vanessa Park, the one actor immune to his charms. (Not that he's trying to charm her, of course.) Meanwhile, his drama-queen mother blackmails him into a new family reality TV show, with Josh in the starring role. Now that he's in the spotlight—on everyone's terms but his own—Josh has to decide whether a life as a superstar is the one he really wants.

Vanessa Park has always been certain about her path as an actor, despite her parents' disapproval. But with all her relationships currently in upheaval, she's painfully uncertain about everything else. When she meets her new career handler, Brianna, Van is relieved to have found someone she can rely on, now that her BFF, Ally, is at college across the country. But as feelings unexpectedly evolve beyond friendship, Van's life reaches a whole new level of confusing. And she'll have to choose between the one thing she's always loved...and the person she never imagined she could.
Josh doesn't have any job lined up, and his mother wants to do a reality show but only can get producers to sign on if Josh is on board too. He'd rather go to the many auditions for other films that are not as worthy than do a reality show, which would most likely tank his career. His mother isn't past blackmailing Josh though, and will do anything it takes to get him to sign on. Vanessa, on the other hand, is dealing with her parents disapproval and with her newfound relationship. After meeting Brianna and wanting what she thought was a friendship, it turns out she was really wanting something more.
I did not enjoy this book. I had really wanted to love it, the characters were funny. I feel like if they were real people I would definitely want to hang out with them. But for some reason, as book characters, it just didn't do it for me. As well it might be the fact that I am a film person, and this whole story is about teen actors. I had thought this was a for sure link between me and the characters. But I was unable to relate, and I feel like this was a negative rendition of actors. Yes I know that there are some actors out there that act exactly how these kids do; but there are those who are like Liam, who will hang out with the crowd but will go and be serious about their work. It just rubbed me the wrong way. This could be because of my naivety and love for the film industry and all that surrounds it. But like I said I understand that there are those people like this out there. It just rubbed me wrong.
I feel like Zander is suppose to be Zayn from One Direction. And if he isn't then that is who I was picturing the whole time I was reading this book. My fangirl was showing, that's for sure.