---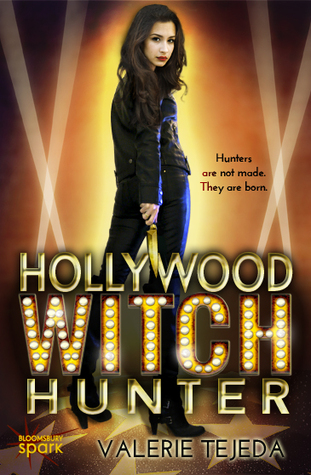 Hollywood Witch Hunter
Author:
Valerie Tejeda
Reading Level: Young Adult
Genres: Paranormal | Fantasy
Release Date: July 20th 2015
Review Source: Author
Hunters are not made. They are born.

From the moment she first learned the truth about witches … she knew she was born to fight them.

Now, at sixteen, Iris is the lone girl on the Witch Hunters Special Ops Team.

But when Iris meets a boy named Arlo, he might just be the key to preventing an evil uprising in Southern California.

Together they're ready to protect the human race at all costs. Because that's what witch hunters do.

Welcome to Hollywood.

Entertainment journalist and author Valerie Tejeda spends her days reporting on books, television and all things pertaining to pop culture and spends her nights writing novels for teens. Her stories have appeared on a variety of different publications, including: Vanity Fair, MTV, The Huffington Post, Teen Vogue, Latina, Yahoo! Shine, Cosmopolitan, and more.

Valerie holds a bachelor of arts in psychology and is currently based in California with her husband, journalist Brent McCluskey, where she reads loads of books, binge-watches Netflix and drinks tons of coffee. Hollywood Witch Hunter is her YA debut.
Beginning at the prologue, I had felt as if I had stepped into a bad, early 90s, original Disney Channel movie that had been released during Halloween. The prologue gives you the conflict upfront by saying that there is a witch named Belinda in Hollywood who is bitter and selfish, so she takes the lives of young, stuck-up girls to keep herself beautiful. Then she placed a curse on all witches in Hollywood so they would do the same. Because of this, there are people called Hunters that are only called so because they carry the gene.
See, typically, only men carry this gene, but Iris is now the only female known to carry it as well. So, throughout the story, you see Iris's struggle to prove herself among a world run by men.
Eventually there is a love interest, two actually, and some big secrets revealed about Iris's father, who happens to be in a high position of authority, and both said love interests.
The story progresses nicely, and there isn't anything too out of plot. There wasn't too much vocabulary to learn, either - 'cause when it comes to supernaturally themed books, there tends to be a whole new language that comes with it. It was easy to pick up and read through quickly.
I would probably recommend this book to a mature 12 year old. Mature only because there is little use of explicit language and situations. For me, though, as a 16 year old, this book seemed a bit elementary. It was a nice story to jump into, though.