---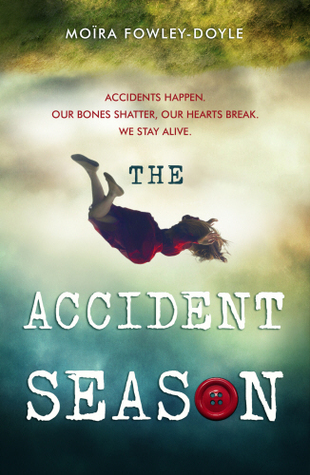 The Accident Season
Author: Moïra Fowley-Doyle
Reading Level: Young Adult
Genre: Contemporary
Released: August 18th 2015
Publisher: Corgi Childrens
It's the accident season, the same time every year. Bones break, skin tears, bruises bloom.

The accident season has been part of seventeen-year-old Cara's life for as long as she can remember. Towards the end of October, foreshadowed by the deaths of many relatives before them, Cara's family becomes inexplicably accident-prone. They banish knives to locked drawers, cover sharp table edges with padding, switch off electrical items - but injuries follow wherever they go, and the accident season becomes an ever-growing obsession and fear.

But why are they so cursed? And how can they break free?
The Accident Season is not a terrifying novel as I expected to be. However, the story is very captivating. I loved the "creepy" vibe it had in some parts. And I really enjoyed reading the characters, they were a bit mature than the usual and outgoing – as in exploring. They were not scared to go into an abandoned house and survey its rooms. And they even had a party there! This is something I would totally see myself doing. But what I enjoyed the most was the twist of the story. Surely it was a very interesting novel.
Every October, Cara and her family are always on edge. The "Accident Season" arrives leaving them with bruises, cuts and even deaths! What in the world!! Yes, outrageous. Unfortunately for this family, they have to endure these accidents. Even though they try to prevent getting hurt, every year they all pay the consequences. As this season is slowly arriving, Cara discover a fellow classmate named Elsie appears in all of her pictures. But investigating Elsie or anything related to her seems a bit problematic. The more she searches for answers, the more questions she appears to have. You're asking yourself, what does she have to do with The Accident Season, well that is a great question. To answer your question, you will have to read the book to find out.
To explain to you more about The Accident Season is like giving you spoilers. I really do not want to this as the story is very intriguing. To top this off, the writing is flawless. The story unravels in harmony and is just something just charming when you discover the truth.
This may not be a terrifying story, but it's certainly is haunting. The twist is something I really enjoyed. It was also very touching. Something very memorable. Such a lyrical tale in which many YA lovers will enjoy.
a Rafflecopter giveaway