Welcome to our stop on Ash & Bramble tour for Sarah Prineas . This tour is hosted by
Rockstar Book Tour
.
---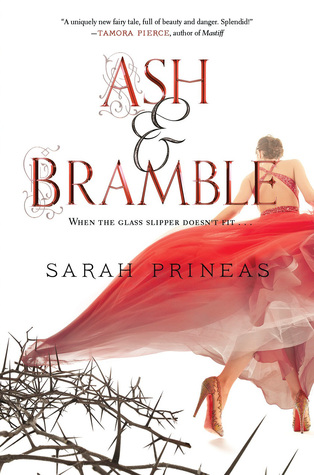 Ash & Bramble
Author: Sarah Prineas
Reading Level: Young Adult
Genre: Fantasy
Released: September 15th 2015
Publisher: HarperTeen
When the glass slipper just doesn't fit…

The tale of Cinderella has been retold countless times. But what you know is not the true story.

Pin has no recollection of who she is or how she got to the Godmother's fortress. She only knows that she is a Seamstress, working day in and out to make ball gowns fit for fairy tales. But she longs to forsake her backbreaking servitude and dares to escape with the brave young Shoemaker.

Pin isn't free for long before she's captured again and forced to live the new life the Godmother chooses for her—a fairy tale story, complete with a charming prince—instead of finding her own happily ever after.

Sarah Prineas's bold fairy tale retelling is a dark and captivating world where swords are more fitting than slippers, young shoemakers are just as striking as princes, and a heroine is more than ready to rescue herself before the clock strikes midnight.
Interview
Can you start off by telling us about Ash & Bramble and where you got the inspiration to write it?
Two big questions led me to write Ash & Bramble. One, in fairytales there's all this stuff: glass slippers, poisoned apples, sharpened spindles, and of course, the glittering, gorgeous ball gowns. But I wondered: where does all that stuff come from? The answer, of course, was the Godmother: she has enslaved the finest seamstresses and craftsmen to make things for her powerful stories.

The second question was: What if you got trapped inside a fairytale—like Cinderella—and it turned out you didn't like Prince Charming very much, or the story's plans for you? What would you do to get out of it?

What did you enjoy most about writing/creating the character Pin?
Her voice. She's snarky and fierce and smart. The cover of the book shows her running away, which she does at the strike of midnight, but she also knows how to stand and fight.

Was there a specific part in the book that you had an especially difficult time writing? If so, why?
This is my eighth published novel, but my very first YA (all my others are MG), and at first it was hard to write the relationship stuff. It's so immediate and so intensely emotional! My editor was like, "moar kissing scenes!" And I was like, "Okay!" while squirming. In the end, I loved writing those scenes, and they're the ones I go back and read over and over again.

What scene in the book are you most proud of, and why?
I'm psyched about the climactic scene because all three plot lines come together at once: Pin's internal journey, her love relationship, and the external confrontation with the story's bad guy.

In less than 140 characters, how would you promote Ash & Bramble on twitter?

Pin, caught up in the Cinderella story, asks, "What if the stories tell us?"


---
Hi there! I'm Sarah Prineas, author of the Magic Thief series published in the US by HarperCollins and in 17 other languages around the world, and the Winterling trilogy. I live in rural Iowa with my mad scientist husband, two kids, and two cats. My next book is called Ash & Bramble, and it's a YA.
10 winners will receive signed hardcovers of ASH & BRAMBLE and buttons. US Only.
a Rafflecopter giveaway