Welcome to our stop on The Next Together tour for Lauren James. This tour is hosted by
The Fantastic Flying Book Club Tours
.
---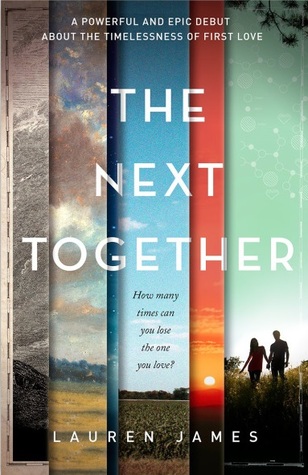 The Next Together
The Next Together #1
Author: Lauren James
Reading Level: Young Adult
Genre: Contemporary Romance
Released: September 3rd 2015
Publisher: Walker
How many times can you lose the person you love?

Katherine and Matthew are destined to be born again and again, century after century. Each time, their presence changes history for the better, and each time, they fall hopelessly in love, only to be tragically separated.

Spanning the Crimean War, the Siege of Carlisle and the near-future of 2019 and 2039 they find themselves sacrificing their lives to save the world. But why do they keep coming back? What else must they achieve before they can be left to live and love in peace?

Maybe the next together will be different...
Kate Finchley
Sassy, ginger, lewd sense of humour
Matt Galloway
Cautious, glasses, sweet.
Chapter 2
Southampton Harbour, England, 1854

Katy glanced up from the Times advertisement she held clutched in herhand and looked around, feeling a little displaced and self-conscious amid thecrowd of red-coated soldiers boarding the steamer. She was suddenly aware ofher clothing, the dull brown breeches, shirt and jacket she'd been wearing for years without worry – but it had been a long time since she'd met new people. She'd grown complacent about her ability to pass as male. It was easy to keep up the act of being a pre-adolescent servant boy when people already believed it. It was entirely different to persuade new people.
What if the journalist took one look at her and laughed her away, saying he'd wanted a man, not a skinny little girl?
Katherine knew that her features were a little feminine, but with cropped hair and clothing, she hoped she would easily pass for an undernourished fourteen-year-old-boy, instead of her sixteen years. If she wasn't so proud of herself for her achievement, she might have been a little offended by it.
She squared her shoulders and berated herself for being stupid. Then she went to find her new employer, weaving her way through the crowd of tearful families waving off the soldiers.
Nearby a horse was being led reluctantly up the ramp to the ship, pausing every few feet to stare at the waves below, crashing against the dock. Katy climbed onto a crate of supplies waiting to be loaded onto the ramp, and looked out over the crowd. She spotted the journalist straight away.
He was reading a newspaper with bags of luggage at his feet. He looked completely out of place in his crumpled shirt and waistcoat among the crisply dressed soldiers.
He wasn't what she'd been expecting, but she knew instinctively that it was him. He was young: only a few years older than her and almost as thin. He was a mess of scruffy hair and spectacles and looked barely strong enough to withstand the sea breeze that swept through the harbour, let alone a war. She suddenly felt a lot more confident. There was hardly anything to him!
"Mr Galloway?" she asked, stepping up the ramp to join him. The man looked up from his newspaper and smiled at her. He had high cheekbones that suddenly caught the light. They defined his face and − oh! − and he had dimples. Those were definitely dimples. Oh.
"You must be Christopher Russell! Matthew Galloway, pleased to meet you."
"I— Hello." She mentally shook herself. She sounded like a fool. She was all flustered, just because he was quite striking, in a posh sort of way, if − if you liked that sort of thing. She swallowed.
She took his proffered hand a little distractedly.
> First contact established in time-landscape 1854
---
Lauren James is a scientist by day, writer by early hours of the morning. She graduated in 2014 with a first class Masters degree in Natural Sciences from the University of Nottingham, where she studied Chemistry and Physics.
She now lives in the village of Berkswell in the UK.
You can find her on Twitter at @Lauren_E_James, which she mainly uses to fancast actors as her characters and panic about all of the overly ambitious plans she has for her PhD, or her website at
http://lauren-e-james.tumblr.com
.
She likes strong, intelligent women, Dylan O'Brien, and things with plants on them. These are her favourite books:
http://www.myindependentbookshop.co.uk/Laurenelizjames