---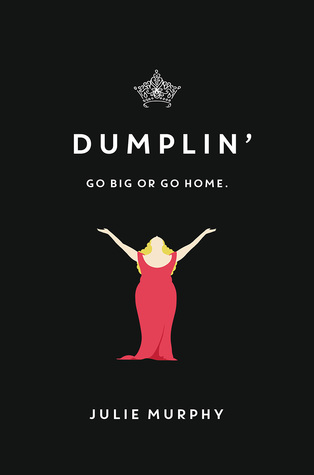 Dumplin'
Author:
Julie Murphy
Reading Level: Young Adult
Genre: Contemporary
Released: September 15th 2015
Review Source: Balzer + Bray
Self-proclaimed fat girl Willowdean Dickson (dubbed "Dumplin'" by her former beauty queen mom) has always been at home in her own skin. Her thoughts on having the ultimate bikini body? Put a bikini on your body. With her all-American beauty best friend, Ellen, by her side, things have always worked . . . until Will takes a job at Harpy's, the local fast-food joint. There she meets Private School Bo, a hot former jock. Will isn't surprised to find herself attracted to Bo. But she is surprised when he seems to like her back.

Instead of finding new heights of self-assurance in her relationship with Bo, Will starts to doubt herself. So she sets out to take back her confidence by doing the most horrifying thing she can imagine: entering the Miss Clover City beauty pageant—along with several other unlikely candidates—to show the world that she deserves to be up there as much as any twiggy girl does. Along the way, she'll shock the hell out of Clover City—and maybe herself most of all.

With starry Texas nights, red candy suckers, Dolly Parton songs, and a wildly unforgettable heroine— Dumplin' is guaranteed to steal your heart.
Y'all I have been waiting for this book for quite some time now and as soon as it landed on my doorstep I was tearing through it. And then to find out the movie rights were sold I was just about the happiest blogger in the world. This book was everything; from the ups and downs, to the love and hate, the uncertainty and confidence, this book had it all. Dumplin' is a good read for everyone, at any age and I definitely recommend this to everyone (shouts from the mountain tops).
So while I try and sit to write this review I'm finding it hard as to where I want to start, or even how to express my true feelings for this book. I loved it so much that I honestly cannot find the words to truly express it. So I'm going to skip the part where I usually go briefly into what the story is about, it's in the description above and it says everything I would and need to say. I'm just going to go into all the reasons why I loved this book so much.
"If it's not your body, it's not yours to comment on."
First off, this book is about having confidence in your own skin, even if it's not what people deem "perfect". And even when you are confident with yourself things can shake and make the confidence falter, but it's about getting back up stronger than before.
Secondly, the relationships throughout the story. Willowdean has an unhealthy relationship with her mother, her mom has always tried to get her to go on diets, to be the beauty queen she was. Then Willowdean's friendships, the new ones made and the old one that hits a setback. And finally her love interest Bo, who with direct intent, made Willowdean's confidence falter.
Thirdly, Dolly Parton. I needn't explain more.
Lastly, Willowdean. There were times I wish I could just jump right into the story and help her see things she was missing. Mend fences that need to be mended, but obviously we can't do that, so I had to sit back and read and wait for everything to fall back into place. The best part of this story was Willow's confidence, her take no prisoners attitude, and the love that filled her heart. She is exactly how I wish everyone could see themselves, beautiful no matter what. We're all a little self-conscious and a little self-destructive at times, but it's what we do to right ourselves, how we pick ourselves up and how we help others pick themselves up from time to time.
Nevertheless I will never be able to come up with enough words to truly explain how much I think this book needs to be read by everyone, but it does. If I was a teacher, I'd throw this in the curriculum. Young, old, skinny, fat, confident or not, you need to read this. I know there are some Dolly Parton fans out there too, so y'all need to read this one as well.