---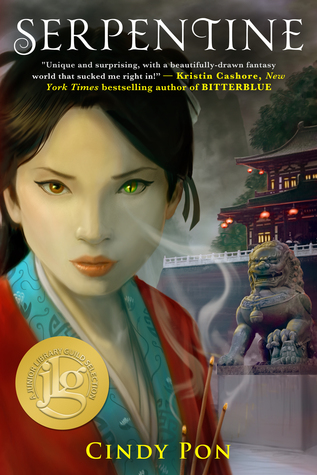 Serpentine
Author: Cindy Pon
Reading Level: Young Adult
Genre: Fantasy
Released: September 8, 2015
Publisher: Month9Books
SERPENTINE is a sweeping fantasy set in the ancient Kingdom of Xia and inspired by the rich history of Chinese mythology.

Lush with details from Chinese folklore, SERPENTINE tells the coming of age story of Skybright, a young girl who worries about her growing otherness. As she turns sixteen, Skybright notices troubling changes. By day, she is a companion and handmaid to the youngest daughter of a very wealthy family. But nighttime brings with it a darkness that not even daybreak can quell.

When her plight can no longer be denied, Skybright learns that despite a dark destiny, she must struggle to retain her sense of self – even as she falls in love for the first time.
My Favorite Quotes/Moments from Serpentine

One of my favorite characters that seemed to appear straight out of the ether for Serpentine was the immortal Stone. Although I have some scenes in my mind before I begin a novel, much of it is still unplanned, and I am writing by the seat of my pants. So when Stone entered the story, I couldn't help but wonder: What's his game?

A tall man stood behind her, dressed in full armor--silver and gold etched with crimson. The only piece missing was his helmet. His hair was long, pulled back in a top knot, like paintings she'd seen of ancient Xian warriors. He didn't seem to be more than eighteen years, but she felt as if she should bow down to him, as if he were nobility.

My heroine Skybright soon learns that Stone is indeed very powerful. And perhaps the only one that knows the truth of who she really is.

He closed the distance between them with two long strides. She tried to turn, to escape from this man who wasn't a man, but discovered that she couldn't move. Her breaths quickened with panic as he gripped her chin in one hot hand--so hot it could burn her if he allowed it. He turned her face from one side to the other, and Skybright saw how impossibly handsome he was--in the way that gods were--with perfectly chiseled features, a strong full mouth and eyes as black as the night sky.


She swallowed hard, trying to control the tremors that swept through her.


"You look exactly like your mother," he said in a soft voice. "There is no question that you are Opal's daughter." He dropped his hand and she gasped, released from his enchantment and slithered away from him.


Stone plays an even larger role in Serpentine's sequel, and has grown to be one of my favorite characters for certain.
---
Cindy Pon is the author of Silver Phoenix (Greenwillow, 2009), which was named one of the Top Ten Fantasy and Science Fiction Books for Youth by the American Library Association's Booklist, and one of 2009′s best Fantasy, Science Fiction and Horror by VOYA. The sequel to Silver Phoenix, titled Fury of the Phoenix, was released in April 2011. Serpentine, the first title in her next Xia duology, will be published by Month9Books in September 2015. She is the co-founder of Diversity in YA with Malinda Lo and on the advisory board of We Need Diverse Books. Cindy is also a Chinese brush painting student of over a decade. Visit her website at www.cindypon.com.
1 winner will receive a signed hardcover of SERPENTINE and brush art painting card. US Only.
3 winners will receive a signed paperback of SERPENTINE and brush art painting card. US Only.
a Rafflecopter giveaway
Week 2:
9/7/2015- Once Upon A Twilight- Guest Post
9/8/2015- Chapter by Chapter- Interview
9/9/2015- Magical Urban Fantasy Reads- Guest Post
9/10/2015- Mundie Moms- Review
9/11/2015- Page Turners- Interview