---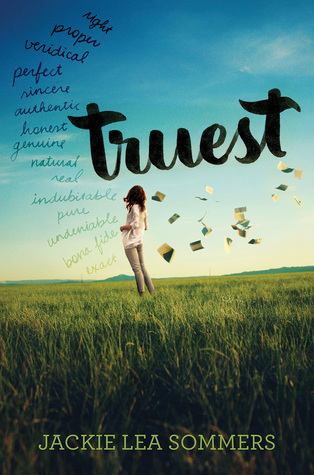 Truest
Author:
Jackie Lea Sommers
Reading Level: Young Adult
Genre: Contemporary | Romance
Released: September 1st 2015
Review Source: Katherine Tegen Books
Silas Hart has seriously shaken up Westlin Beck's small-town life. Brand new to town, Silas is different than the guys in Green Lake. He's curious, poetic, philosophical, maddening-- and really, really cute. But Silas has a sister-- and she has a secret. And West has a boyfriend. And life in Green Lake is about to change forever.

Truest is a stunning, addictive debut. Romantic, fun, tender, and satisfying, it asks as many questions as it answers.
Truest
has got to be my most surprising read this year. While I read the summary I knew it sounded good, but I wasn't sure I'd like the idea of the new guy coming into town while our main character had a boyfriend. That always ends in trouble that I like to avoid while reading, but I threw caution to the wind and decided to pick it up after all. And thank god I did because I absolutely LOVED it; I cried, I laughed, I swooned, and got angry, I felt it.
Summer before senior year is starting and Westlin Beck is lonely. Her boyfriend is working all day at the farm to save money for a car, Westlin's best friend is spending her summer being a counselor at a summer camp and Westlin is alone to her own devices. West's father, the town Pastor, inconveniently makes a pit stop at the new town resident's house to give communion. While West is annoyed with the inconvenience she ends up meeting Silas Hart, the boy that holds the key to my heart… I mean the key to an entertaining summer for West. Pastor Beck ends up inviting Silas to work alongside of West detailing cars this summer. While West is aggravated with her dad's forwardness, she finds herself getting drawn into Silas, his ironic shirts, his great taste in literature, his appreciation towards words, and his devotion to his family, especially his sister Laurel.
So basically pick this up. Please. It was so beautiful, Silas literally had me swooning within pages and I couldn't get enough of him. To be honest, I would've loved this book to actually been Silas' story. Not that I didn't enjoy West and her story, I think I was overly drawn into Silas, his problems, his family, his swoon worthy words, but either way I still highly enjoyed this book.