Welcome to our stop on A Step Toward Falling tour for Cammie McGovern. This tour is hosted by
Me, My Shelf and I
.
---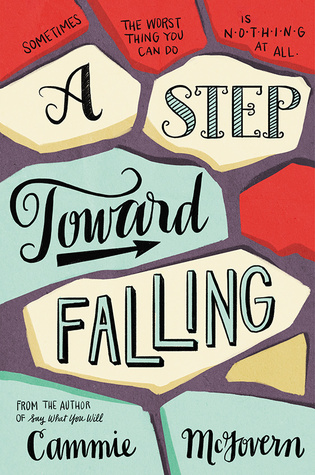 A Step Toward Falling
Author: Cammie McGovern
Reading Level: Young Adult
Genre: Contemporary
Released: October 6th 2015
Publisher: HarperTeen
Cammie McGovern follows up her breakout young adult debut, Say What You Will, with this powerful and unforgettable novel about learning from your mistakes, and learning to forgive. Told in alternating points of view, A Step Toward Falling is a poignant, hopeful, and altogether stunning work that will appeal to fans of Jennifer Nevin, Robyn Schneider, and Jandy Nelson.

Emily has always been the kind of girl who tries to do the right thing—until one night when she does the worst thing possible. She sees Belinda, a classmate with developmental disabilities, being attacked. Inexplicably, she does nothing at all.

Belinda, however, manages to save herself. When their high school finds out what happened, Emily and Lucas, a football player who was also there that night, are required to perform community service at a center for disabled people. Soon, Lucas and Emily begin to feel like maybe they're starting to make a real difference. Like they would be able to do the right thing if they could do that night all over again. But can they do anything that will actually help the one person they hurt the most?
FIVE FAVORITE HEARTTHROBS
I'm going to pick some favorites out of my most recently-read pile and ones people might not have heard of yet but definitely should:

Blue from SIMON Vs. THE HOMO SAPIENS AGENDA by Becky Albertalli—This gay love story builds almost entirely in wonderfully-written, funny, smart and anonymous e-mails to each other.

Lucas from I REMEMBER YOU by Cathleen Davitt Bell—Amazingly compelling love story about time travel that gets all the desperate, heady urgency of first love just right.

Oliver of EMMY AND OLIVER by Robin Benway—Old friends discover new love with a twist that makes the whole story very fresh and appealing.

Marsh Mellow from PARDON ME, YOU'RE STEPPING ON MY EYEBALL by Paul Zindel—Okay, this is an old book that I recently re-read and LOVED! With PIGMAN, Zindel virtually invented the love story told in alternating chapters by two smart teens but you should read his others which are just as hilarious and heartbreaking.

Aaron from MORE HAPPY THAN NOT by Adam Silvera—This isn't a love story really, but it's one where I fell in love with the narrator in pursuit of his own happy ending.
---
Cammie McGovern was born in Evanston, Illinois, but moved to Los Angeles when she was seven years old. She is the author of three adult novels, The Art of Seeing, Eye Contact, and Neighborhood Watch. Say What You Will will be published by HarperTeen in June, 2014. She currently lives in Amherst, MA, with her husband and three sons, the oldest of whom is autistic.
One winner will get 2 copies of A STEP TOWARD FALLING by Cammie McGovern, one for themselves and one to give to a friend.
Must be 13+ To Enter |Ships in US only | Winner will be asked to provide contact info for friend so we can gather their shipping info and mail directly.
a Rafflecopter giveaway