---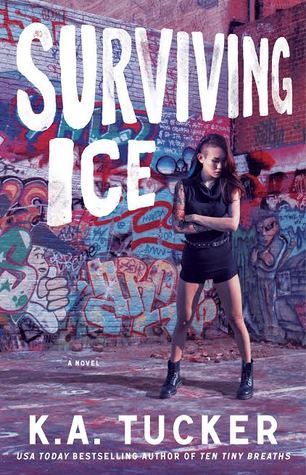 Surviving Ice
Burying Water #4
Author: K.A. Tucker
Reading Level: New Adult
Genre: Contemporary Romance
Released: October 27th 2015
Publisher: Atria Books
The USA TODAY bestselling author of the Ten Tiny Breaths series and Burying Water—which Kirkus Reviews called "a sexy, romantic, gangster-tinged page-turner"—returns with a new novel packed with romance, plot twists, and psychological suspense.

Ivy, a talented tattoo artist who spent the early part of her twenties on the move, is finally looking for a place to call home. She thinks she might have found it in San Francisco, but all that changes when she witnesses a terrible crime. She's ready to pack up her things yet again, when a random encounter with a stranger keeps her in the city, giving her reason to stay after all.

That is, until Ivy discovers that their encounter wasn't random. Not at all…
You know there are times you fall head over heels with the main male character? You want him to be a real person because, damn he is one hot specimen. Well with Surviving Ice, I'm actually the opposite. I am head over heels over Ivy Lee. This girl is perfect. I loved her even with her flaws.
Ivy loves to travel and never settles in one place for long. Now that she is visiting her favorite uncle in San Francisco, she is thinking for first time to settle. But something happens to her uncle and Ivy wants nothing to do with San Francisco. Although she is an expert at moving around, now Ivy has to take care of her uncle's affair before setting off to a new adventure.
Comes in mysterious and hot Sebastian into the picture. He is a Navy Seal and is assigned a new job, that is Ivy Lee. He is to investigate and search for a VHS (yes, those old videotape cassettes) and maybe even find out if Ivy is aware of what's on that tape.
Ivy is clueless of what her uncle was up to and is not aware of this VHS. As Sebastian comes into her life, she has a feeling he is not good, but the girl wants him bad. I wouldn't blame her since he is a walking gorgeous creature. What she doesn't know is that he is dangerous and is assigned to watch her.
Getting to know both Sebastian and Ivy was something else. They're both very careful of what they do and they notice every single thing. It was strange that they both connected and had mutual feelings, yet fun. Ivy has many walls that protects her but only Sebastian was the only with the ability to put those barriers down. The same as Sebastian. He's the best at his job and is very discreet. However, with Ivy, there was something special about her, that he even bust out telling her his real name. They were both tough characters and seeing them vulnerable with one another was just something special to read.
As a fan of K.A. Tucker, I'm always in awe how complex her writing is. No matter what she writes, I will somehow fall in love with her stories. Surviving Ice was simply another gorgeous story that everyone should read. So if you're in the mood for some serious suspense story with a twist of love, then Burying Water series is a must!
Excerpt
With my keys in the ignition, I pause once to get another look at the old storefront signage, at the playful eyes staring down at me, and smile. They belong on a puppy or kitten, not on a feral fanged jackrabbit. Kind of like the exotic girl with razor-sharp attitude inside. Though her eyes aren't necessarily playful. Soft, yes. Veiled behind a tough act, but I saw the vulnerability there. The need to appear strong when she doesn't really feel it inside.
She is strong, I'll give her that. Her uncle was murdered a week ago and she's not sitting in there, crying about it. She's set her grief aside to do what needs to be done, and that's a quality not everyone possesses. She's doing it on her own, too, I presume, because I don't see anyone around to help her.
But she's definitely not unaffected by what's happened. I could see it in the dark bags under her eyes, as if she hasn't slept in days. I saw it in the way she reacted to me entering the shop, her tiny fist curled around the wrench, ready to defend herself if she needed to.
I knew about her two-hundred-dollar-an-hour rate before stepping inside, thanks to a quick website search. That, along with an impressive portfolio of work, confirmed to me that I have nothing to worry about if I were forced to have her hold a needle to my flesh. But for now that's not necessary because I got what I needed.
Information.
She's going to be busy here for a good few hours, which means her house is waiting for me.
I feel the pull, though, to go back and just drag that chair out for her, despite her attitude. She's too arrogant or suspicious or plain fucking mule-headed to accept help when she clearly needed it, stretching her tiny body—that I could snap in two in a heartbeat—to her full five-foot-two stature in defiance, even as I towered over her. She clearly wants it out for emotional reasons, to try to unsee whatever she witnessed that led to her uncle's murder. I want to tell her that it's pointless. She'll never be able to shed those memories.
But I'm not here to be her shrink or her confidant.
And if she knows anything about this videotape, then I'm about to become her worst nightmare.
---
Born in small-town Ontario, Kathleen published her first book at the age of six with the help of her elementary school librarian and a box of crayons. She is a voracious reader and the farthest thing from a genre-snob, loving everything from High Fantasy to Chick Lit. Kathleen currently resides in a quaint small town outside of Toronto with her husband, two beautiful girls, and an exhausting brood of four-legged creatures.